It's been quite a while since we saw a whole new type of gaming entertainment emerge. You could argue that the Nintendo Switch represented a significant innovation in that it more or less blended console and mobile activity. But it's nothing like the newness of augmented reality gaming, which we're now seeing on mobile devices. Apple's ARKit is already widely available with numerous apps having been released (for devices operating on iOS 11). And Google's ARCore is active as well, with apps on the way for Android 7.0 Nougat or higher.
The easy comparison that you'll see is to Pokémon GO, a widely popular game that did employ AR principles. But because full-fledged Augmented Reality development platforms are so new, it's a little bit difficult to predict what will happen when the gaming market expands. We won't just be seeing imitations of Pokémon GO, but rather all kinds of experiences, adaptations and innovations. It's all a mystery – but a few of the early games at least appear to demonstrate the potential of the budding category.
READ MORE Indian-origin researchers develop a mechanism called Entrupy to differentiate genuine & fake products
Euclidean Lands
This is an app that may not be on quite as many people's radar early on, because it isn't free. In the iOS store, it costs $3.99, which isn't much, but it may be more than some are willing to pay for an experiment with a new type of gaming. Even so, it's a known commodity as an adaptation of a regular mobile game, and it certainly feels significant, because we're already seeing a trend toward 3D puzzles that can be manipulated via touch and movement alike. ARise is another game like this that has already emerged, and has been called a clear evolution of puzzle-platformer games. When you start to think about how many such game are already popular – Hitman GO, Lara Croft GO, Monument Valley etc. – this appears to be a significant genre for augmented reality. Euclidean Lands is leading the way.
Kings Of Pool Augmented Reality
At a glance, this is one of the more basic AR games available. It basically functions as a typical mobile billiards game, superimposed on a table, floor, or other surface. But when you consider related games across mobile and online platforms – card games, casino games, etc. – it seems to be particularly significant. It's certainly just a matter of time for instance before poker and blackjack tables are similarly designed in AR. Slots, too, could follow a similar path. These games have been fueled by continuing innovations in technology, to the point that they now come in 3D and with background animations. AR follows as a perfectly logical next step. For these reasons, Kings Of Pool, though a simple app itself, seems like the first in chain of similar basement, bar, and casino-style games that we'll see in this medium.
The Machines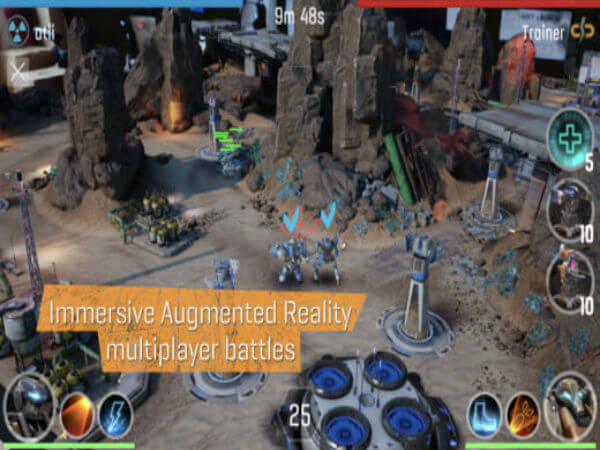 Like Euclidean Lands, this app costs a little bit of money ($4.99 in the iOS store), so it might not be the first experiment for a lot of people trying AR. But it may just be the most impressive game yet on the platform. It's definitely the best looking game you can get in AR at this stage, and basically brings a high-energy MOBA experience to life on a table or surface in front of you. Frankly, it's surprising that a game this intricate and complex works so well right off the bat, and for that reason it seems poised to open the door for all kinds of additional strategy and role-playing games.
Even if mobile gaming isn't necessarily your thing, these are titles and genres you'll probably have to get used to seeing and hearing about in mobile stores. AR is only just beginning, and these apps will be leading the way.