A web and app based platform ""10digi"" has launched a new free home delivery service in Delhi/NCR through which customers will get free delivery of telecom products such as SIMs, data cards and dongles, directly to home. The 10digi platform will facilitate activation of the SIM cards as well as compare type of plans. The tag line of the service is ""ab ghar baithe SIM mangwao"".
10digi's Features of New Free Service
e-KYC SIM Activation : For e-KYC subscribers, the SIM cards will be activated instantly. (e-KYC is Electronically Know Your Customer)
Paper-KYC SIM Activation : For paper-Know Your Customer (KYC) subscribers, the SIM will be activated within 4 hours for prepaid connections and within 8 hours for postpaid ones connections as compared to the current process which takes anywhere from 8-48 hours.
Free Delivery : All orders are delivered for free.
Cash on Delivery : Pay cash at your doorstep.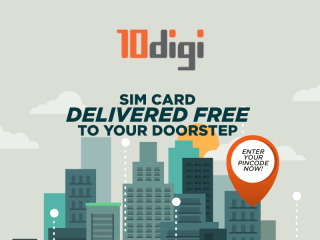 For the free delivery service, 10digi has recruited 500 Mobile Retailers (MRs) by investing Rs.75 lakh in the initial phase along with Rs. 2 crore for the Delhi/NCR market. Once you request for a connection, the nearest MR will be at your doorstep at the desired time to collect the required documents and deliver SIMs and other products.
According to Livemint.com, 10digi has tied up with Vodafone, Idea, Tata, BSNL and Reliance Communications and will soon tied-up with other telecom companies such as Bharti Airtel and MTNL. With this, customers will get the option to choose SIM cards and can get free delivery of SIMs to their doorstep.
The 10digi platform is providing the facility to users to easily pick service providers, compare their plans, Mobile Number Portability (MNP), recharge and bill payment options using various payment methods preferred in the e-commerce domain.
Sherjil Ozair and Ozair Yasin, the founders of 10digi platform, said
"The direct to home facility of SIM cards is the first-of-its-kind in India. We are pleased to announce 10digi's foray into the Delhi market, presenting this attractive/one-of-a-kind offering for businesses across India. This will provide us the first mover''s advantage in the market, where we intend to tap 5% of the customer base across 135 cities within a year. To accomplish this, we will hire 10,000 MRs across India in a phased manner. We
intend to provide end-to-end telecom products before exploring other industry products in future."