Mahindra and Mahindra (M&M), Indian vehicle manufacturer, has recently launched a new digital connected vehicle technology platform- Mahindra DiGiSense.
Purpose: To prevent theft of vehicles.
With this, 'DiGiSense' technology, vital information of any vehicle can be accessed on real-time basis from anywhere.
The DiGiSense platform is open sourced, which is flexible and also open to third party integration.
Where Mahindra DiGiSense platform is developed and manufactured?
The first version of the digital platform, the Mahindra DiGiSense 1.0, has been completely developed, manufactured and tested in India in collaboration with Tech Mahindra, Bosch and Vodafone.
With this, Mahindra has become the first Original Equipment Manufacturer (OEM) in India to integrate its product line-up onto a cloud-based technology platform.
How Mahindra DiGiSense will be helpful for us?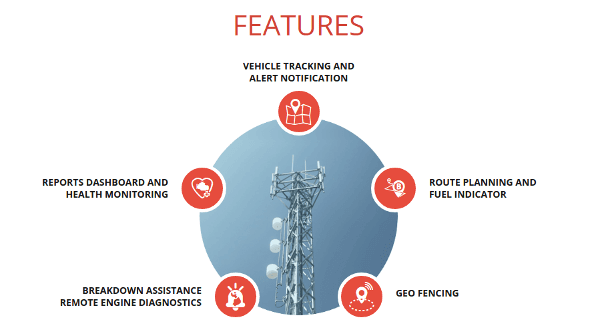 It is the first-of-its kind technology platform, which is multi-application and multi-product enabled. It will be helpful for us because the new digital platform will –
Provide real-time data to track performance and productivity of the vehicles, which will enable customers to control their businesses.
Allow vehicle owners to set speed and rpm limits on their vehicles. With this, if driver exceeds the limit set, the owner will be notified.
Monitor engine and mechanical health of the vehicle and prompts the user when to go in for the replacement of parts like air filter or when to go in for a scheduled service.
Provide real time GPS tracking of the vehicle, which will be helpful to prevent theft of vehicles.
Provides route suggestions and gives an estimate on the fare of travel.
Mahindra has offered DiGiSense platform to which of its vehicles?
Initially,  the technology will be offered in Mahindra Jeeto, Imperio, Arjun Novo tractor and the Mahindra Earthmaster and the Mahindra Blazo.
It will be available as a subscription based service.