Bharti Airtel is offering upto 30 GB free 4G data to its postpaid customers via MyAirtel app under its Airtel Surprises offer from March 13, 2017. The 30GB Free 4G data means that you get 10GB/ month absolutely free of cost for three months. According to Gopal Vittal, CEO of Bharti Airtel, this offer is a celebration of the fact that Airtel was adjudicated as India's fastest mobile network by the popular Speedtest Company 'Ookla'.
How to Receive Airtel 30 GB free 4G Data offer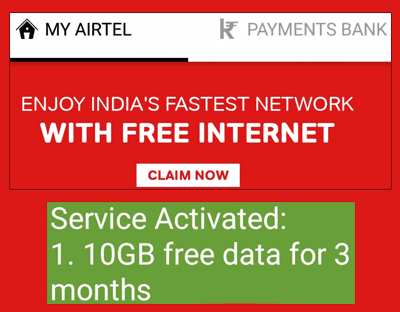 To avail the free data offer, you've to open My Airtel App. There, you will find a banner ad displaying – Enjoy India's Fastest Network with Free Internet. Now, click on the "Claim Now" button below it. Once you click on 'Claim Now' you will see a greetings message stating that you have got 30GB Free data. Then, the free data offer will be activated after getting a service SMS to you. Now, enjoy Free Data from Airtel for 3 months. It's that simple!
In case you don't have the app, install it from the Google Play Store. The app shows a message asking you to claim your surprise offer. Once you tap on message, it shows that each month additional 10GB data will be available to you. Then, the free data offer will be activated after getting a service SMS to you. Now, enjoy Free Data for 3 months.
Latest Airtel Offers
In a bid to counter Reliance Jio, Airtel has come up with new revamped plans to offer 1 GB 4G data per day bundled with unlimited calls. These offers will only be valid for customers who own any 4G mobile handset.
345 offer: Free local and STD calls to any network, 1GB daily data limit (500MB day + 500MB night).
145 offer: Free Airtel-to-Airtel calls (local + national), 2GB data per month.
The new offer is to counter JIO Prime Membership Programme, which offering 28GB/month data at 4G Speed & unlimited calls to its Jio customers at 303 from April 1, 2017. This Jio offer is available only for JIO Prime members, who will take Jio Prime membership at 99/year.
Free Incoming Calls and SMS on National Roaming
Death of National roaming: From April 1, 2017, Airtel customers roaming within India will enjoy free incoming calls and SMS and there will be no premium on outgoing calls that allows them to speak freely wherever they are within the country. Also, there will be no additional data charges on national roaming. Home data packs for customers will apply even while they roam across India.
No Bill Shocks on International Roaming
From April 1, 2017, even customers on international roaming without a pack will be fully protected from bill shocks through an automatic adjustment that is equal to the daily pack for that particular country. This means that the moment a customer's billing reaches the price of a one day pack for the country, he/she will be automatically moved to that pack.
Even post the exhaustion of pack benefits, customers will continue to enjoy extremely attractive rates for calling and data usage.
Call Charges have been reduced by up to 90% to as low as 3/min and data charges by up to 99% to 3/MB across popular roaming destinations.
For example, when a customer is travelling to the US without a pack and hits the threshold of 649 (the price of the one-day pack for the US), he/she will automatically move to the one-day pack with free incoming calls/SMS, 100 India and local country outgoing minutes, 300MB data and other benefits.
Please check the applicable pack rates for the country they are traveling to at Airtel – International Roaming Packs.