The date of August 19 was chosen as World Photography Day to commemorate the invention of the Daguerreotype, a photographic process developed by Frenchmen Louis Daguerre and Joseph Nicephore Niepce in 1837. On 19th August 1839, the French government purchased the patent and announced Daguerreotype free to the world as a gift. This event was an important step in the development of modern-day photography.
On August 19, 2010 World Photo Day (WPD) hosted it's first global online gallery. People from over 100 countries visited the website and almost 270 photographers shared their pictures. This is marked as the first official, globally reaching World Photo Day.
I believe that photography has the power to tell stories, inspire generations and create positive impact in the world
– Korske Ara (Founder, World Photo Day)
On this World Photography Day, here I am listing the top 5 DSLR cameras under 50,000.
Nikon D3300
Available on Flipkart and Amazon
General
Effective Pixels
24.2 Megapixel
Shooting Modes
Auto • Manual • Portrait • Landscape • Child • Sports • Close-up • Night Portrait • Night Vision • Super Vivid • Pop • Photo Illustration • Color Sketch • Toy Camera Effect • Miniature Effect • Panorama
Shutter Speed
1/4000 sec
Image Format
JPEG, NEF (RAW), NEF (RAW) + JPEG, EXIF 2.3, DCF 2.0, DPOF
Display Size
3
Battery Type
Lithium Battery
Dimension
124 x 75.5 x 98 mm
Connectivity
– USB Cable
– HDMI
– Microphone
– PictBridge
Sensor Features
Optical Sensor Type
CMOS
Image Sensor Size
22.0 x 14.7 mm
Lens Features
Optical Zoom
34
Lens Mount
Nikon F Mount (with AF Contacts)
Viewfinder Features
View Finder Type
Eye-level Pentamirror Single-lens Reflex Viewfinder
Viewfinder Coverage
95% Horizontal and 95% Vertical
Viewpoint Dioptric Adjustment
Diopter Adjustment: -1.7 – 0.5 m-1
Viewfinder Eye Point
18 mm
Focus Features
Focus Mode
Single-point AF, Dynamic-area AF, Auto-area AF, 3D-tracking (11 Points)
Focus Range
Detection Range: -1 – +19 EV (ISO 100, 20° C)
Metering Modes
Center-weighted Average, Spot, Matrix
Focus Points
11 Focus Point
White Balancing
Auto, Incandescent, Fluorescent (7 Types), Direct Sunlight, Flash, Cloudy, Shade, Preset Manual
Scene Modes
(Portrait, Landscape, Child, Sports, Close-up, Night Portrait), Programmed Auto with Flexible Program (P), Shutter-priority Auto (S), Aperture-priority Auto (A), Manual (M)
Other Focus Features
1.5x Lens Focal Length, Manual Focus (MF): Electronic Rangefinder, Focus Lock
Flash Features
Flash Modes
Auto with Red-eye Reduction, Auto Slow Sync, Auto Slow Sync with Red-eye Reduction, Fill-flash, Red-eye Reduction, Slow Sync, Slow Sync with Red-eye Reduction, Rear-curtain with Slow Sync, Rear-curtain Sync, Off
Flash Compensation
1/3 EV in increments of +/- 3 EV
Other Flash Features
Built-in Flash: Auto, Portrait, Child, Close-up, Night Portrait, Super Vivid, Pop, Photo Illustration, Color Sketch, Toy Camera Effect: Auto Flash with Auto Pop-up P, S, A, M: Manual Pop-up with Button Release, Guide Number: 12/39, 13/43 with Manual Flash (m/ft, ISO 100, 20° C), Flash-ready Indicator
Video Features
Video Resolution
1280 x 720
Video Format
MOV, MPEG-4 / H.264
Canon EOS 1300D
Available on Flipkart and Amazon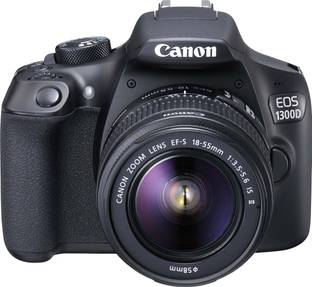 General
Effective Pixels
18 Megapixel
Shooting Modes
Basic Zone Modes:
• Scene Intelligent Auto • Flash Off • Creative Auto • Portrait • Landscape • Close-up • Night Portrait • Sports • Food
Creative Zone Modes:
• Program AE  • Shutter Priority AE • Aperture Priority AE • Manual exposure
Shutter Speed
1/4000 sec
Image Format
JPEG, RAW (14 bit Canon Original), RAW + JPEG Large Simultaneous Recording Possible
Display Size
3
Battery Type
Lithium Battery
Dimension
7.8 x 12.9 x 10.1 cm
Sensor Features
Optical Sensor Type
CMOS
Image Sensor Size
23.2 x 15.4 mm
ISO
100 – 6400, ISO Expansion to H (Equivalent to ISO 12800)
Lens Features
Optical Zoom
H300 CAMERA WITH 35X
Lens Mount
Canon EF Mount
Compatible Lenses
Canon EF Lenses (Including EF-S Lenses)
Viewfinder Features
View Finder Type
Eye-level Pentamirror
Viewfinder Coverage
Vertical / Horizontal 95% (With Eye Point 21 mm)
Viewfinder Magnification
0.8x (-1 m-1 with 50 mm Lens at Infinity)
Viewpoint Dioptric Adjustment
-2.5 to +0.5 m-1 (dpt)
Viewfinder Eye Point
21 mm
Focus Features
Focus Mode
Contrast Detection (FlexiZone Single, Face Detection Live Mode), Phase Difference Detection (Quick Mode) Manual Focus (5x / 10x Magnification Possible),
AF Operation: One Shot AF, AI Servo AF, AI Focus AF
Focus Range
Focusing Brightness Range (EV 0 – 18 (Center AF Point), EV 1 – 18 (other AF Points) with One-shot AF at Room Temperature, ISO 100), Brightness Metering Range: EV 1 – 20 (at Room Temperature, ISO 100
Metering Modes
63 Zone TTL Full-aperture Metering, Evaluative Metering, Partial Metering, Center Weighted Average Metering
Focus Points
9 Focus Point
White Balancing
Auto (Ambience Priority), Auto (White Priority), Preset (Daylight, Shade, Cloudy, Tungsten Light, White Fluorescent Light, Flash), Custom, White Balance Correction and White Balance Bracketing Provided
Other Focus Features
Type: TTL Secondary Image Registration, Phase Difference Detection, Focusing Brightness Range (For Viewfinder Shooting): EV 0 – 18 (Center AF Point), EV 1 – 18 (Other AF Points), (With One-Shot AF at Room Temperature, ISO 100),
AF Assist Beam: Small Series of Flashes Fired by Built-in Flash,
Focusing Brightness Range (For Live View Shooting): EV 1 – 18 (At Room Temperature, ISO 100),
Focusing Brightness Range (For Movie Shooting): EV 1 – 18 (At Room Temperature, ISO 100)
Flash Features
Flash Modes
Auto
Flash Compensation
1/3 or 1/2 Stop Increments in +/- 2 Stops
Other Flash Features
Built-in Flash: Retractable, Auto Pop-up Flash,
Guide Number: 9.2 / 30.2 (ISO 100, in meters / feet) or 13 / 42.7 (ISO 200, in meters / feet),
Flash Coverage: 17 mm Lens Angle of View, Recharge Time: 2 sec, FE Lock,
External Flash: EX-series Speedlite
Video Features
Video Resolution
5184 x 3456
Video Format
Design Rule for Camera File System (DCF) 2.0, MOV, MPEG-4 AVC / H.264, Variable (Average) Bit Rate
Nikon D3400
Available on Flipkart and Amazon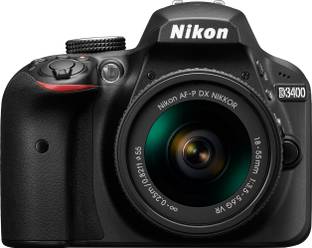 General
Effective Pixels
24.2 Megapixel
Shutter Type
Electronically-controlled Vertical-travel Focal-plane Shutter
Shutter Speed
30 – 1/4000 sec
Image Format
NEF (RAW): 12 bit, Compressed JPEG: JPEG Baseline Compliant with Fine (1:4), Normal (1:8),
Basic (1:16) Compression NEF (RAW) + JPEG: Single Photograph Recorded in Both NEF (RAW) and JPEG Formats
Display Size
3
Battery Type
Lithium Battery
Dimension
7.5 x 12.4 x 9.8 cm
Sensor Features
Optical Sensor Type
CMOS
Image Sensor Size
23.5 x 15.6 mm
ISO
ISO 100 – 25600 (Auto)
Lens Features
Optical Zoom
1X
Lens Mount
Nikon F Mount (with AF Contacts)
Compatible Lenses
Nikkor Lens
Viewfinder Features
View Finder Type
Eye-level Pentamirror Single-lens Reflex Viewfinder
Viewfinder Magnification
0.85x (50 mm f/1.4 Lens at Infinity, -1.0 m-1)
Viewpoint Dioptric Adjustment
-1.7 to +0.5 m-1
Viewfinder Eye Point
19 mm
Focus Features
Focus Range
Detection Range: –1 to +19 EV (ISO 100, 20 degree C)
Focus Points
11 Focus Point
Scene Modes
 Portrait, Landscape, Child, Sports, Close Up, Night Portrait
White Balancing
Auto, Incandescent, Fluorescent (7 Types), Direct Sunlight, Flash, Cloudy, Shade, Preset Manual, All Except Preset Manual with Fine Tuning
Other Focus Features
AF-area Mode, Focus Lock, Face Priority AF, Wide Area AF, Normal Area AF, Subject Tracking AF, Autofocus
Flash Features
Flash Modes
Auto, Auto with Red-eye Reduction, Auto Slow Sync, Auto Slow Sync with Red-eye Reduction, Fill Flash, Red-eye Reduction, Slow Sync, Slow Sync with Red-eye Reduction, Rear Curtain with Slow Sync, Rear Curtain Sync, Off
Flash Compensation
-3 to +1 EV in Steps of 1/3 EV in P, S, A, M and Scene Modes
Other Flash Features
Built-in Flash (Auto, Portrait, Child, Close Up, Night Portrait, Super Vivid, Pop, Photo Illustration, Toy Camera Effect: Auto Flash with Auto Pop-up P, S, A, M: Manual Pop-up with Button Release
Guide Number: 7/22, 8/26 with Manual Flash (m/ft, ISO 100, 20 degree C), Flash Ready Indicator: Lights when Built-in Flash or Optional Flash Unit is Fully Charged, Flashes After Flash is Fired at Full Output
Video Features
Video Resolution
1920 x 1080, 60p
Video Format
MOV
Canon EOS 700D
Available on Flipkart and Amazon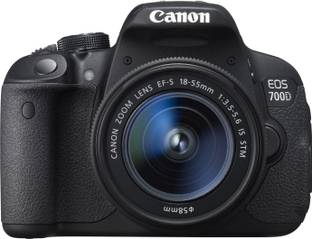 General
Effective Pixels
18 Megapixel
Shooting Modes
Scene Intelligent Auto • No Flash • Creative Auto, Portrait • Landscape • Sports • Close-up • Night Portrait • Handheld Night Scene • HDR Backlight Control • Program AE • Shutter Priority AE • Aperture Priority AE • Manual (Stills and Movie)
Shutter Speed
1/4000 sec
Image Format
JPEG, RAW, DCF 2.0, RAW JPEG, DPOF 1.1, EXIF 2.3
Display Size
3
Battery Type
Lithium Battery
Dimension
13.2 x 9.9 x 7.9 cm
Sensor Features
Optical Sensor Type
CMOS
Image Sensor Size
23.1 x 15.4 mm
Lens Features
Optical Zoom
3
Lens Mount
Canon EF Mount
Viewfinder Features
View Finder Type
Eye-level Pentamirror
Viewfinder Coverage
Coverage (Vertical / Horizontal): 95%
Viewpoint Dioptric Adjustment
-3.0 to +1.0 m-1 (dpt)
Viewfinder Eye Point
19 mm
Focus Features
Focus Range
AF System / Points: 9 Cross-type AF Points, AF Working Range: EV -0.5 -18, AF Modes, AI Focus, One Shot, AI Servo, AF Point Selection, Selected AF Point Display, Predictive AF upto 10 m, AF Lock, AF Assist Beam
Metering Modes
Evaluative, Partial, Spot, Center Weighted
White Balancing
Auto, Daylight, Shade, Cloudy, Tungsten, White Fluorescent Light, Flash, Custom
Other Focus Features
Focusing Screen: Depth of Field Preview, Eyepiece Shutter,
Autofocus: Hybrid CMOS AF, Phase Detection AF, TTL Autofocus
Flash Features
Flash Modes
Auto, Manual Flash, Integrated Speedlite Transmitter
Flash Compensation
2 EV in increments of 1/2 or 1/3
Other Flash Features
Flash (Built-in FlashN (ISO 100, Meters), Built-in Flash Coverage upto 17 mm Focal Length, Built-in Flash Recycle Time: 3 sec, Flash Exposure Bracketing, Flash Exposure Lock, Second Curtain Synchronisation, Hot Shoe / PC Terminal, External Flash Compatibility, External Flash Control Via Camera Menu Screen
Video Features
Video Resolution
1,920 x 1,080
Video Format
MOV, H.264 / MPEG-4 AVC
Sony Alpha A68
Available on Flipkart and Amazon
General
Effective Pixels
24.2 Megapixel
Shutter Speed
1/4000 sec
Image Format
RAW, RAW and JPEG, JPEG Extra Fine, JPEG Fine, JPEG Standard
Display Size
2.7
Battery Type
Lithium Battery
Dimension
8.3 x 14.3 x 10.4 cm
Sensor Features
Optical Sensor Type
CMOS
Image Sensor Size
22.3 x 14.9 mm
ISO
 100 – 25600
Lens Features
Optical Zoom
4
Lens Mount
Sony A-mount Lens
Viewfinder Features
View Finder Type
Electronic Viewfinder
Viewfinder Coverage
100.00%
Viewpoint Dioptric Adjustment
-4.0 to +3.0 m-1
Viewfinder Magnification
0.88x (35 mm Camera Equivalent: 0.57x) with 50 mm Lens at Infinity, -1 m-1
Focus Features
Focus Mode
Single-shot AF (AF-S), Continuous AF (AF-C), Automatic AF (AF-A) Selectable
Metering Modes
Multi Segment, Spot, Center-weighted
White Balancing
Auto, Daylight, Shade, Cloudy, Incandescent, Fluorescent (Warm White / Cool White / Day White / Daylight), Flash, Colour Temperature (2500 to 9900K), Color Filter (G7 to M7, A7 to B7), Custom (1 / 2 / 3), Custom Set
Scene Modes
Portrait, Landscape, Macro, Sports Action, Sunset, Night Portrait, Night Scene, Hand-held Twilight
Other Focus Features
Focus Type: TTL Phase-detection AF
Focus Sensor: CCD Line Sensors, Focus Sensitivity Range: EV -2 to 18
Focus Area: Wide, Zone, Center, Flexible Spot, Expanded Flexible Spot, Lock-On AF, Predictive Control, Focus Lock, AF On,
AF Illuminator: Built-in, Auto Pop-up
AF Illuminator Range: 1 m – 5 m
Flash Features
Flash Modes
Flash Off, Autoflash, Fill-flash, Slow Sync, Red-eye Reduction (On / Off Selectable), Rear Sync, Wireless, High Speed Sync
Flash Compensation
-/+ 3.0 EV (Switchable between 1/3 and 1/2 EV Steps)
Other Flash Features
FFlash Control: ADI, Pre-flash TTL, Manual Flash
External Flash Compatibility: Sony Alpha System Flash Compatible with Multi Interface Shoe, Attach the Shoe Adaptor (ADP-MAA) for Flash Compatible with Auto-lock Accessory Shoe, FE Level Lock
Flash Type: Built-in, Auto Pop-up
Video Features
Video Resolution
1920 x 1080
Video Format
XAVC S, AVCHD Format Version 2.0 Compatible, MP4