The BharatQR is the most efficient way to pay digitally for purchasing good and services without swiping card on Point of Sale (PoS) machines. This new digitally payment system is launched by the Government of India (GoI) on February 20, 2017 to develop country towards less-cash economy.
It is the first quick response (QR) code and is jointly developed by the National Payments Corporation of India (NPCI), Visa, MasterCard and American Express under the instructions from the Reserve Bank of India (RBI).
BharatQR Code?
The BharatQR code is the world's first inter-operable payment acceptance solution. The simple method to understand the BharatQR through customers and merchants perspectives is as follows-
From Customers Point of View – By using Bharat QR code, you do not need to swipe your credit card or debit card through any PoS terminal. You simply need to scan the QR code and transfer the payments.
From Merchants Point of View– By using Bharat QR code, merchants need not to install a POS machine at their shops whether it be 2 or 3 floors or it be mall. They can simply put a QR code embedded on their cash counter and may receive payments through that facility. Thus, through this digital payment system, no extra money will be spent on maintenance cost.
With this mechanism, merchants would only require to display one QR code instead of multiple ones.
Currently, the BharatQR code works on Android and iOS platforms and not on Windows.
How will BharatQR Works?
The BharatQR code will work as a digital Point of Sale (PoS) machine. As a customer, to use this code, you need to have a smart phone with an Internet connection and a bank application (or app) that is compatible with the new BharatQR code. BharatQR code is of two types — static and dynamic.
Static: If you are using the static QR code then you will have to first scan the merchant's unique code and enter the amount to be paid on your smartphone. The payment has to be authorized with a PIN.
Dynamic: But if you want to opt for a dynamic system, the merchant will generate a new QR code each time. If you simply scan and enter the PIN, the applicable amount will be credited to the merchant. Credit, debit and prepaid card holders with the member bank can use this service.
How Safe is Your Transaction via BharatQR?
There are two ways BharatQR can work.
A merchant generates a single QR code for the outlet. The customer makes payment by scanning the code and using his/her PIN.
The merchant can create a unique code for every transaction. In such a case, the PIN won't be prompted.
In both the cases, the transactions are secure as sensitive data such as bank account details and PIN are never stored.
Benefits of BharatQR Code
Consumers need not to scan different QR codes at the same merchant provided by different payment networks.
Merchants will only need to display one QR code at the storefront or through the acquiring bank's mobile application.
If merchants & customers are on different platforms, then? Nothing to worry, BharatQR will enable payment from one to the other. This means that merchants need to display only one QR code instead of multiple ones  for different payment platforms. That's why, BharatQR code is an inter-operable payment acceptance solution.
Practical Example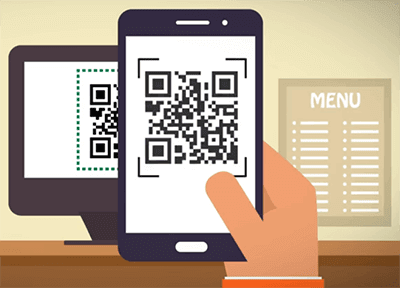 Through BharatQR digital system, Gita purchased gold jewellery from Tanishq showroom within a second. What she actually did to pay digitally? She just scanned a QR code displaying on the storefront with her smartphone and entered the transaction amount. That's it. It's that simple! With the 'BharatQR' code (i.e. unique to each merchant), the authority of Tanishq will receive the money instantaneously.
Note: In the case of a card-based transaction at a point-of-sale (POS) terminal, the merchant receives money only the next day. Therefore, the BharatQR' is beneficial for both customer and merchant.
How many Banks offer BharatQR?
Right now, only 15 banks are operationally ready to deploy Bharat QR code. These banks are as follows: Axis Bank, Bank of Baroda, Bank of India, Citi Union Bank, DCB Bank Ltd, Karur Vysya Bank, HDFC Bank Ltd, ICICI Bank Ltd, IDBI Bank Ltd, Punjab National Bank, RBL Bank Ltd, State Bank of India, Union Bank of India, Vijaya Bank and Yes Bank Ltd. Persons using MasterCard, Visa, AmericanExpress or Rupay can also transact using Bharat QR.
According to NPCI's Hota, over the next six months, BharatQR will be deployed by 50 top banks, and it will reach at least 1 million merchants by the end of this calendar year.
Source: The Hindu, livemint & The Financial Express