The UPI-based digital payment app "Bharat Interface for Money (BHIM)" has been launched by our honorable Prime Minister Narendra Modi at the Digi-Dhan Mela in Delhi's Talkatora stadium to encourage digital transactions and increase participation of people in Lucky Grahak Yojana (for retail consumers) and in Digi Dhan Vyapar Yojana (for small businesses). The BHIM app is one app for all banks.
The key features of updated version of BHIM app 1.2 are as follows: 
Now app support 7 new regional languages apart from existing English and Hindi languages. These are Odia, Bengali, Tamil, Telugu, Malayalam, Kannada and Gujarati.
'Pay to Aadhaar Number' has been introduced as a payment option, wherein customer can transfer money to the Aadhaar number linked with beneficiaries' bank account.
Now, app has 'SPAM Report' feature for collecting. This feature will help a user to block unknown persons requesting for money.
Improvised Customer Redressal Mechanism with drop down menu is also added in the app.
To know more about Unified Payment Interface (UPI), please click "Unified Payment Interface (UPI): Go Cashless With Digital Money Transfer".
Let Us Know About BHIM In-depth
BHIM Platform
The BHIM app is developed by the National Payment Corporation of India (NPCI) to enable fast, secure and reliable cashless payments through Unified Payments Interface (UPI) platform. You can send, receive or request money from a payment address across any UPI supported banks.
Quick Snapshot of BHIM App
Charges: No charges for making transaction through Bharat Interface for Money (BHIM) app.
Transaction Limit: Maximum of 10,000 per transaction and 20,000 within 24 hours.
Language: Support Hindi and English and will soon launch in regional languages.
24/7: All payments are instant and 24/7.
Super Fast: Within few seconds the transaction process of money can be completed.
Query: The app has an in-built feature to raise a query with your bank inside a transaction.
Network: All payments are done using secured network of UPI.
Money: Scan QR code to pay or receive money.
Payment Address (PA): Your mobile number is your payment address (PA) and you can simply start transacting.
Note – Your bank might however levy a nominal charge as UPI or IMPS transfer fee. Please check with your bank for more details.
What Do You Require to Start BHIM App
Smartphone.
Internet access.
An Indian bank account that supports UPI payments.
Mobile number linked to the bank account.
Link your bank account to UPI through the app.
How To Use BHIM App
First, you have to download the app from Google play store or Apple App store. Once installed, Choose your language– English or Hindi (Available for both iOS & Android) or seven regional languages (Available only for Android) viz. Odia, Bengali, Tamil, Telugu, Malayalam, Kannada and Gujarati. Then, allow app to verify you. This is for your security.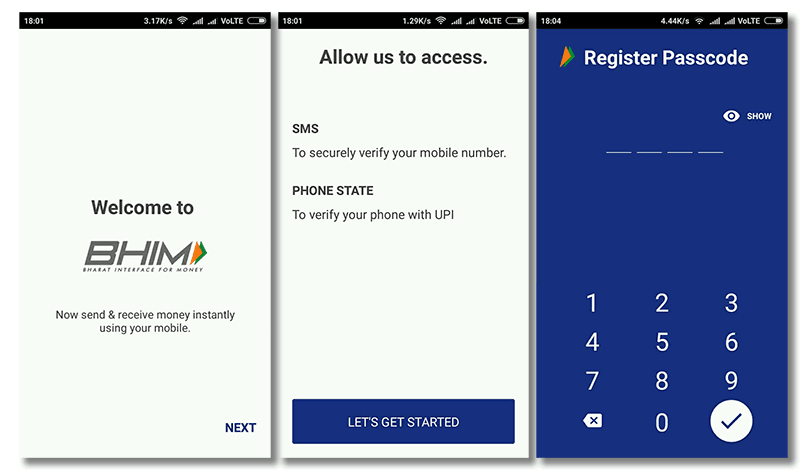 Verify Mobile Number: The app will ask you to select your SIM card, in case of dual-SIM smartphone. (Users are advised to choose the SIM /Mobile number registered / linked with Bank accounts).
SMS: The app will send you the sms verification code. With this, your mobile will beverified. (SMS charges will apply). Now, you need to register passcode.
Passcode: You've to choose your 4-digit Passcode. Register & confirm Passcode.
Choose Bank: Choose Bank to link that you currently operating. The app will automatically fetch your bank a/c details. This means that after choosing bank, the app will automatically picked up your saving a/c number because your mobile number is already linked with your bank's saving a/c no.
Options: After this, the app will show a screen with options – Send, Request and Scan and Pay. This means you have successfully set up the app and it is now ready to use.

Transfer Money in BHIM app

Set UPI PIN: Set your UPI PIN by providing last 6 digits of debit card and expiry date of debit card.
Now, you can send, receive, collect money by using Virtual Payment Address (VPA), Account number + IFSC , Scan and Pay option. You can also view your profile, records of transactions and by clicking on Bank Account option, you can reset or change your UPI pin. By clicking on three dots on right top corner, you can change your bank account if you wish to switch to another account from the current one.
How To Set Your UPI PIN Code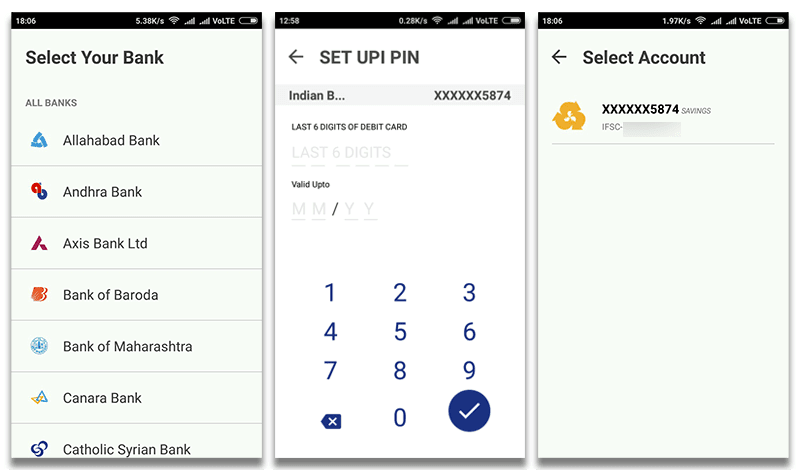 You've to set your 6-digit UPI pin code for transfer or receive money.
To set UPI-Pin you have to enter last 6 digits of your debit or ATM card details.
Then, enter the validity of your ATM card – Month / Year and confirm it.
Your UPI PIN will set.
How To Set Virtual Payment Address (VPA)
After successfully setting up the BHIM app and it's UPI Pin, you have to set Virtual Payment Address (VPA) for transaction of money. To set VPA-
Visit Profile option and set VPAs.
Two VPAs are allowed per user – mobileno@upi & name@upi.
Set one VPA as a primary virtual payment address (VPA) ( Ex. nishantpatil@upi or 91000000@upi can be primary VPA that makes it easy to share with others).
Beside VPA, QR code feature is also available. In it, by using Scan and Pay option send and collect money anytime.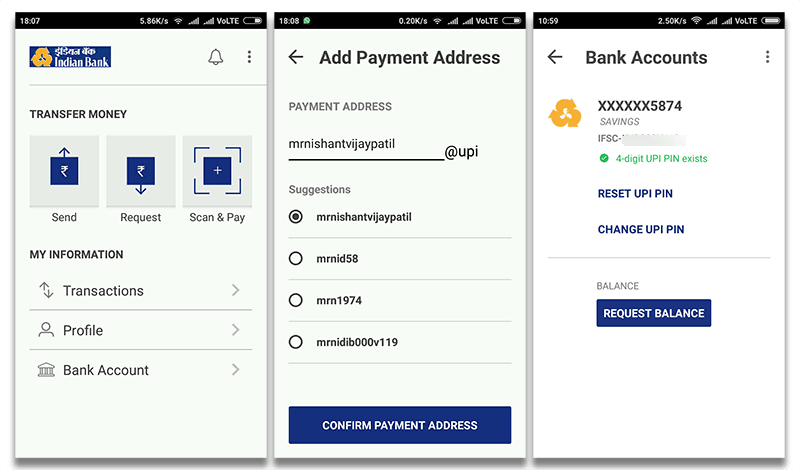 How to Send Money Through App
Click Send option.
Enter or select the receiver's mobile number or Payment Address (you can select from your contact list or enter it) or Aadhaar number.
Enter the amount you want to send.
Your default bank a/c gets selected.
Enter UPI PIN and send.
Alternately, you can also scan a QR code and pay via the 'Scan & Pay' option.
Note: Payment can be made via (IFSC, Account number) or (MMID, Mobile number) if the person is not registered on Bharat Interface for Money.
Ways to Transfer Money Through BHIM App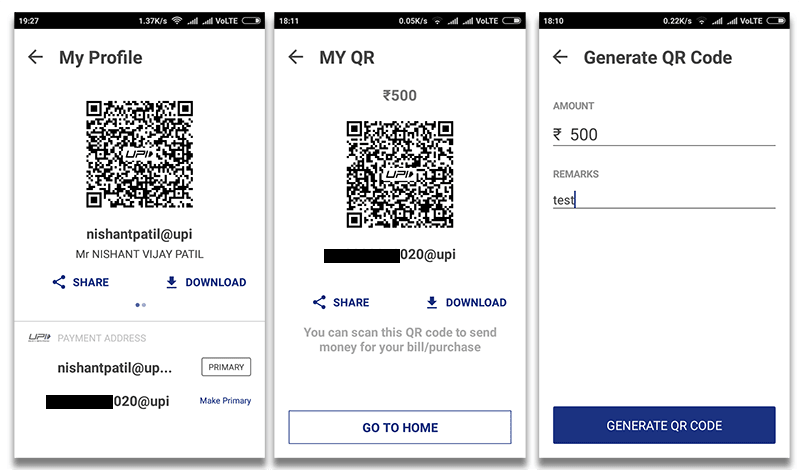 Through QR Code: You can scan a QR code to pay or receive money. Merchants can easily print their QR Code for display.
Through the UPI address: The UPI address could be your name, mobile number or even a nick name.  Let me clear you, the UPI address has two parts like an email-ID. For example-technosavie@upi or 91000000@upi. The suffix would be fixed word i. e. @upi, while you can choose the Prefix. The prefix can be your name, phone number or anything you want.
Through Mobile Number: A mobile-number based UPI address is generated automatically, but users have the option of creating and saving additional UPI addresses.
MMID and IFSC: The money can also be sent to non-UPI supported banks. This can be done using MMID and IFSC.
How to Request Money Through App
Select Request option.
Enter or select the receiver's mobile number or Payment Address (you can select from your contact list or enter it) or Aadhaar number.
Enter the amount you want to request.
Click Send.
This transaction will remain pending until the payment is received. You will be notified when the money is transferred to you.
You may also request money by sharing your QR code. Go to Home Screen->Profile->Choose account to get QR code.
Types of Transactions
Through Bharat Interface for Money you can make following types of transactions:-
Request or Send Money via Payment Address.
Send Money to Aadhaar Number.
Request or Send Money to Mobile number .
Send Money through MMID , Mobile No.
Send Money through IFSC code, Account No.
In addition, you can use the scan and pay option for Merchant payments.
Banks Supported by the App
The following banks support the BHIM app:
Allahabad Bank, Andhra Bank, Axis Bank, Bank of Baroda, Bank of India, Bank of Maharashtra, Canara Bank, Catholic Syrian Bank, Central Bank of India, DCB Bank, Dena Bank, Federal Bank, HDFC Bank, ICICI Bank, IDBI Bank, IDFC Bank, Indian Bank, Indian Overseas Bank, IndusInd Bank, Karnataka Bank, Karur Vysya Bank, Kotak Mahindra Bank, Oriental Bank of Commerce, Punjab National Bank, RBL Bank, South Indian Bank, Standard Chartered Bank, State Bank of India, Syndicate Bank, Union Bank of India, United Bank of India, Vijaya Bank.