Do you want to security control all your HomeKit accessories from your favorite iOS device? Your wait is over! You can live your smarter life through new Home app of ios, which can easily connect your household devices and accessories and control them from your phone. Though, make sure your devices and appliances will work with new Home app.
It is so simple to get started with Home App, just launch the app, you will see "Work with Apple HomeKit" on devices and appliances. Each device come with its own set-up instructions. Different accessories perform different task based on their criteria. It is easy to turn off and on lights, you can invite your friends and give them authority to access your accessories. It is so easy to control multiple devices at a time.
How to Use Home App on Your iPhone, iPad, iPod and Apple TV
The Home app in iOS 10 lets you securely control any "Works with Apple HomeKit" accessory. You can also organize your accessories by room, manage multiple accessories.
Add an Accessory to Home
To get your smart home started, add lights, locks, thermostats, and other HomeKit-enabled accessories. Before you set up your accessory:
Open Home and tap Add Accessory or tap.
Wait for your accessory to appear, then tap it. If asked to Add Accessory to Network, tap Allow.
With the camera on your iOS device, scan the eight-digit HomeKit code on the accessory or accessory documentation. Or enter the code manually.
Add information about your accessory, like its name or the room it's located in. Siri will identify your accessory by the name you give it and the location it's in.
To finish, tap Next, then tap Done.
Edit Details About Your Accessory
You can edit details about your accessory, like its name, location, and more.
Open the Home app and tap the Home tab.
Touch and hold an accessory in the Home tab.
Tap Details. From here you can add the following details about your accessory:

Edit details about accessory

Name: Name your accessory to help you identify it in Home and to control it with Siri.
Location: Assign a location for your accessory, like the living room.
Type: Select the type of accessory it is, like a switch or light.
Include in Favorites: Turn on to access your accessory in Control Center, the Home tab, and on your Apple Watch.
Status and Notifications: Turn on to see what accessories are turned on at the top of the Home tab.

To finish, tap Done.
Add a Room
Want to organize your accessories by the room they're located in? You can create different rooms in the Home app to help you keep track of where your accessories are located.
To create a room:
Open Home and tap the Rooms tab.
Tap  in the upper-left corner, then tap Room Settings.
Tap Add Room.
Give your room a name, like Living Room. To change the Room Wallpaper, tap Take Photo or Choose from Existing.
To finish, tap Save.
To assign accessories to a room:
Tap the Rooms tab, swipe left or right to find the room the accessory is in, then touch and hold on an accessory.
Tap Details, then tap Location.
Select a room for the accessory, then tap Done.
To navigate between different rooms, tap the Rooms tab at the bottom, then swipe right or left across the screen or tap 
 in the upper-left corner. To edit the order of your rooms, tap
, tap Room Settings, tap Edit, then drag the rooms in the order you want them.
Control Your Accessories
Here's how to turn your accessories on and off, find any extra controls, and quickly check status information:
'
Turn accessories on or off: In the Home tab or Rooms tab, tap an accessory to turn it on or off. For some accessories, like a thermostat, touch and hold the accessory to see its controls. Want to do this from Control Center or your Apple Watch? Add your accessory as a Favorite.
Use extra features: Some accessories, like lights and thermostats, offer features like brightness, color, and temperature controls. Touch and hold the accessory to find and adjust extra features.
Check the status of your accessories: Status and Notifications, let you see which accessories are turned on at the top of the Home tab. For example, check the top of the Home tab to see how many lights are on. Tap Details under the status to see more information.
Create a Scene to Control Multiple Accessories
Scenes let you control multiple accessories at the same time. For example, you might create a scene called "Arrive home" that turns on all of the lights and unlocks the front door—all with a single tap.
To create a scene:
Open the Home app and tap the Home tab or Rooms tab, then tap .
Tap Add Scene.
You can use a suggested scene or create a custom one.
Tap Add or Remove Accessories.
Tap the accessories that you want to add, then tap Done.
Touch and hold an accessory to adjust its settings.
To preview the scene, tap Test This Scene. Want to access your scene from the Home tab, Control Center, and your Apple Watch? Turn on Show in Favorites.
To finish, tap Done.
Tap the scene to turn it on or off, or just ask Siri. You can add or remove accessories from a scene at anytime. Just touch and hold a scene, then tap Details.
Control Your Home with Siri
After you add accessories to Home, you can control your accessories and scenes with Siri commands. Here are some things you can ask Siri, depending on your accessories, their names, and your scenes:
"Turn off the lights in the family room."
"Set brightness to 55%."
"Set the temperature to 68 degrees."
"Did I lock the front door?"
"I'm home."
"Turn on the fan in the office."
"Set my reading scene."
"Turn off the lights in the Chicago house."
Share Control of Your Accessories
You can invite others to control your accessories if they're using iOS 10 and signed in to iCloud. To share control of your accessories, you need to be either in your home or have a home hub set up in your home.
To invite others:
Open Home and tap the Home tab.
Tap  in the upper-left corner.
Tap Invite.
Enter the person's Apple ID that they use with iCloud.
Tap Send Invite.
Your recipient will get a notification in the Home app on their device.
To accept an invite:
Open Home and tap .
Tap Home Settings.
Tap Accept, then tap Done.
After you accept the invitation, tap 
 and tap the name of the Home to control it.
Delete Your Home Data or Reset Your Accessories
Moving to a new home and want to set up and control your new home with your accessories? You can remove your home and manually reset your accessories.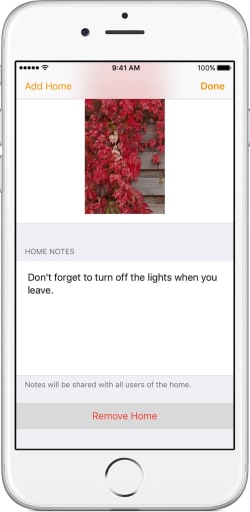 To delete your Home data:
Open Home and tap the Home tab.
Tap .
Scroll to the bottom and tap Remove Home. Then tap Delete to confirm.
You might need to reset each of your accessories. To reset your accessory, look for a button on the accessory, check its manual, or contact the manufacturer.
HomeKit Features
Home is the full featured HomeKit app that supports all HomeKit features – including scenes and triggers. You can control all your HomeKit accessories from different manufacturers in one app.
Triggers
Home allows you to create timer and event triggers. For example, an event trigger raises the room temperature when you leave the office after sunset only if the current temperature is lower than 20°C.
Groups
You can control multiple accessories at once using Groups. For example you can turn on all lights in the living room and set the brightness to 50%.
Favorites
Your most important services, groups and scenes can be marked as favorite. Favorites are listed in the Today View and on Apple Watch.
Remote Access
You can access your HomeKit accessories remotely by enabling Remote Access in iOS Settings > Home and by having a 3rd generation Apple TV connected to your local network.
3D Touch Support
Use Quick Actions to execute your scenes right from the Home screen on iPhone 6s and iPhone 6s Plus. Take a quick look at your accessories using Peek and Pop.
Swipe Actions
Outlets and light bulbs can now be control using swipe actions. You can toggle the power state by swiping to the left. Swiping to the right lets you quickly change the brightness of lights.
Requirements
Before you purchase any device from market or from any store make sure they are compatible with Apple Home App. Just check this apple Badge on devices and accessories. The Home app only works with HomeKit compatible accessories.