Apple has released iOS 10 Operating System on September 13, the update is available not only for iPhone and iPad users but also for tvOS 10 and watchOS 3, it was announced by Apple at the company's WWDC 2016 keynote on June 2016. The iOS 10 will be available on the iPhone 5, iPad and iPod touch, iPad mini 2, iPad 4, iPad Air, watchOS 3, and tvOS 10.
iOS 10, the biggest release of Apple. There's so much to say about iOS 10
iOS 10 redesigned Lock Screen in which notification display as banners on screen, better 3D touch and a new widgets screen will now be visible clearly. iOS 10 has come with many exciting features. Apple has developed new apps and also added some features to pre-installed apps in iOS 10. Apple has made major changes to the entire operating system.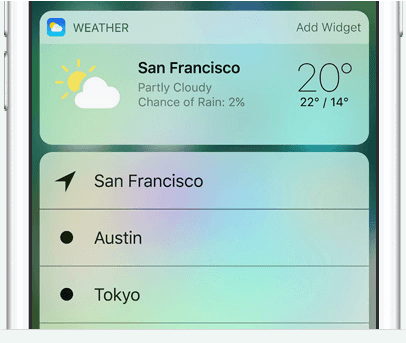 Here is New Features of iOS 10
Siri: The most important feature of iOS 10 is that Siri voice recognition software has been opened up to third-party developers. With this, users will be able to send voice queries to particular apps and perform certain actions directly, user can also send a message via WhatsApp. Siri can be use to starting Voice over IP calls, sending and requesting payments, searching for photos and videos, ordering taxicab or ride-sharing services and managing workouts.
Lock Screen: Apple redesigned the LockScreen. In it, "Slide to Unlock" feature has been removed and replaced with 'Press home to open'. This feature is similar to the Apple Watch's Raise to Wake.

Simply pick up your iPhone to wake it up

Raise to Wake: There is no need to press any button to see notification , user need to wakes up the phone screen simply by picking up your phone. They can see notifications, date and time without pressing any buttons. This feature is only available on the iPhone 6S, 6S Plus, and SE.

iMessage: Apple has redesigned message application in iOS 10. This application will show preview of rich links and videos, message bubble effects and emoji interaction.

Preview of rich links & videos, message bubble effects

Maps: It has been redesigned with easy access controls, in which the updated app takes traffic into account dynamically and offers alternative routes on the fly if traffic makes them preferable. Beside this, the iOS 10 users can also scan calendar events for locations, redesign driving views and will be able to


Maps can make proactive suggestions for where you're likely to go

Simple, intuitive design makes it easier to enjoy favourite songs.

Music: Music application is now more simple and have clear appearance. The tabs such as Library, For You, Browse, Radio and Search, will be helpful to discover better content and makes quick search for songs and albums.
"For You" section also reorganized with a play list which will offer daily music recommendations. There are also a new tab for downloaded songs called "Downloaded Music". lyrics of songs Will also appear on screen.
News: News section comes in new layout, it is divided into sections and have bold headings. It also supports for subscriptions and provides notifications for breaking news.
Photos: The app has come with new feature called "Memories". It is similar to Google feature.
This feature will automatically create videos of events. Apart from this, local facial recognition, screen-recognition and add objects to images are also added.

Photos app can help rediscover cherished memories

Phone: The upgraded Phone app will be able to read transcripts of voicemail messages. In other words, by using this upgraded app, iOS will convert speech into text so we can look through a voicemail without having to listen to it.

Swap out words with emoji

Emoji: This time emojis are 3 times bigger and it's easy to swap out words with emoji, with a simple touch. We can use invisible ink, tapbacks, bubble effects, digital ink and stickers to attract or mesmerize our message.
Keyboard: The iOS 10 provides predictive emoji keyboard, which also offers emoji suggestions and also have click sound effect.  The quick type feature is also available in it.

Typing is quicker and easier

Home app lets you turn on lights, unlock doors and even raise your window blinds

Home: The iOS 10 users will be able to remove app icons from home screen and they can delete or uninstall default apps from home screen. If they want to reinstall these apps,  they have to download from App Store.
iOS 10 Will Work With
| iPhone | iPod Touch | iPad | iPad Mini |
| --- | --- | --- | --- |
| iPhone 5 | iPod Touch (6th generation) | iPad (4th generation) | iPad Mini 2 |
| iPhone 5C | | iPad Air | iPad Mini 3 |
| iPhone 5S | | iPad Air 2 | iPad Mini 4 |
| iPhone 6 | | iPad Pro 12.9 | |
| iPhone 6 Plus | | iPad Pro 9.7 | |
| iPhone 6S | | | |
| iPhone 6S Plus | | | |
| iPhone SE | | | |
| iPhone 7 | | | |
| iPhone 7 Plus | | | |
iOS 10 Won't Work With
| iPhone | iPod Touch | iPad | iPad Mini |
| --- | --- | --- | --- |
| Original iPhone | original iPod touch | original iPad | |
| iPhone 3G | iPod touch 2nd-gen | iPad 2 | |
| iPhone 3GS | iPod touch 3rd-gen | iPad 3 | |
| iPhone 4 | iPod touch 4th-gen | | |
| iPhone 4S | iPod touch 5th-gen | | |