Hey guys! Like Google Pay & PhonePe, the WhatsApp Pay service is now live in India. As we are all aware that we can now make secure payment transactions right where we chat with friends, relatives, or professionals.
The payments feature on WhatsApp Payments is powered by BHIM UPI and there is No Fee required for sending money on WhatsApp. The interesting piece of information is that we can also transfer money on WhatsApp by using the UPI IDs of other UPI-based Apps such as
PhonePe,
Paytm,
Google Pay
Amazon Pay & others.
Though, the question arises of how to send money via 3rd party apps. Hence, let's proceed further to sort the queries by following the steps.
For this, the major requirement is that you have to create or have working UPI ID in any other UPI-based app.
WhatsApp Payments: First-Time User
If you are using the WhatsApp payments service first-time then make sure you have carried out the following steps:
Process
Description
Install
Install the latest version of WhatsApp.
Same Mobile No.
Make sure that the phone number associated with your WhatsApp account is the same as that linked to your bank account.
Linking
Link your bank account to your WhatsApp number for online transactions.
UPI ID
& Smartphones
Android: It will automatically create your BHIM UPI ID for WhatsApp.

iPhone: It will give you 2 options.
a) Select a BHIM UPI ID for any UPI-based App.
b) Create a BHIM UPI ID.
BHIM UPI PIN
Here, you don't need to set a BHIM UPI PIN again as it is already set by you for your bank account, which is linked to other UPI-based apps for payment transactions.
If you guys are unable to execute the above-said tasks then please explore our How TO queries related to the WhatsApp Payments service.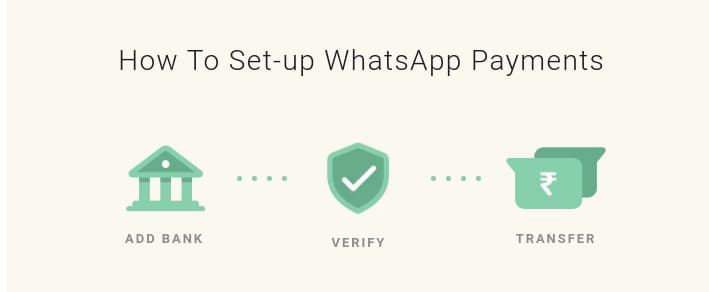 Caution: Never share your bank details, card info, or your UPI PIN with anyone else.
WhatsApp Pay: Transfer Money via UPI IDs
After successfully adding bank a/c, we are ready to transfer money with the help of UPI-based apps by carrying out the following procedure:
What To Do?
Transfer Money via Other UPI IDs
Select BHIM UPI ID
Open WhatsApp ➡️ go to Settings ➡️ tap Payments ➡️ then ➡️ tap New Payment.
OR
Open WhatsApp ➡️ go to chat ➡️ tap the Attachment 📎 icon ➡️ tap on Payment.

If you are First Time User, then after selecting your bank, you will see 2 options:
1. Select a BHIM UPI ID for any UPI-based App.
2. Create a BHIM UPI ID.

Choose 1st
If you choose the 1st option (Select a BHIM UPI ID), then you have the choice to opt for UPI IDs of UPI-based apps such as
PhonePe,
Google Pay,
Paytm,
Amazon Pay & others.

Enter your UPI ID.
Recipient UPI ID
Add recipient's UPI ID, and then ➡️ enter the amount & description.
Your UPI PIN
Enter your UPI PIN.

Benefit: Your UPI PIN code will also remain the same for the other UPI-based apps.
Confirmation
After sending the money you will get a text message from your bank & you will be notified by the WhatApp on payment transfer.

Note:
BHIM UPI ID = Username
BHIM UPI PIN = Password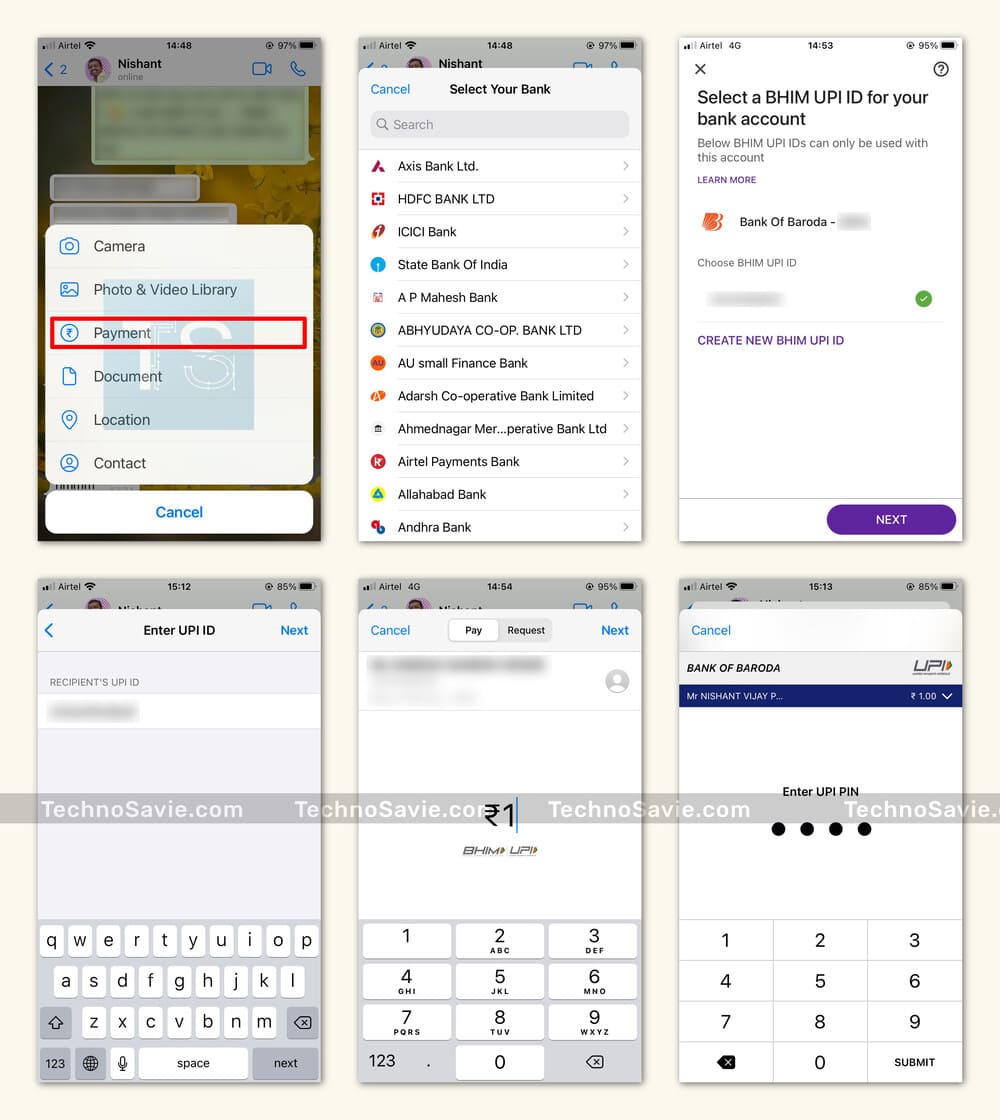 This is how you can easily transfer money on WhatsApp Chat via Paytm, PhonePe & other 3rd Party UPI IDs. I have tried my best to resolve your queries if something goes missing then please message me. For more tutorials, please visit Techno Savie's How To's section.