Hey Guys! Just like other Social Media platforms such as Twitter's Fleets 🐦, Pinterest Story Pins 📌, Instagram Stories Map 🗺️, the Facebook-owned messaging platform is also not behind in the field of ephemeral posts. Hence, your much-awaited WhatsApp disappearing messages feature has officially rolled out for everyone. Here, the twist is that this is not a one-day ⏱️ story to end the post but a game of 7 days.
It is very interesting to know that your WhatsApp messages in the chat will now automatically disappear (or erased) after the seven-day period. But, please make sure the other person has also enabled the Disappearing Messages feature for you.
Queries: WhatsApp Disappearing Messages
Queries
Solutions
How will it work with quoted messages?
When you reply to a message, the initial message is quoted. If you reply to a disappearing message, the quoted text might remain in the chat after seven days.
Is feature works both sides or one side?
One Sided. In a one-to-one chat, either person can turn disappearing messages on or off.
How this feature works on Forwarded Chat?
If a disappearing message is forwarded to a chat with disappearing messages off, the message won't disappear in the forwarded chat.
Is the feature effects previous messages?
No, the previously sent or received messages will not disappear.
Can content can be saved from disappearing messages?
Yes, anyone can store your disappearing messages before it disappears such as:
1. By copying & saving these messages before disappearing.
2. By taking a screenshot or photo with a camera.

Hence, please use the said feature with trusted friends.
​What about WhatsApp backups?
If your friend creates a backup of your message before it disappears, then the disappearing message will be included in the backup.

Note: Disappearing messages will be deleted when your friend restores from a backup.
How to Turn On Feature
To turn on disappearing messages on a particular chat: You've to first install the latest version of WhatsApp on your smartphone (Android or iPhone). After upgrading, you have to follow these steps to enable disappearing messages in WhatsApp.
Open WhatsApp on your smartphone and tap on contact's name ( or switch on the profile of the person in which you want to apply the said feature).
Then, tap on Disappearing Messages ✉️ option.
Tap Continue, after reading the instructions.
Finally, select On to turn on disappearing messages for that particular chat.
Now, go back to the chat window and you will find a new disappearing messages logo on the profile picture.
You can follow the same process to disable it.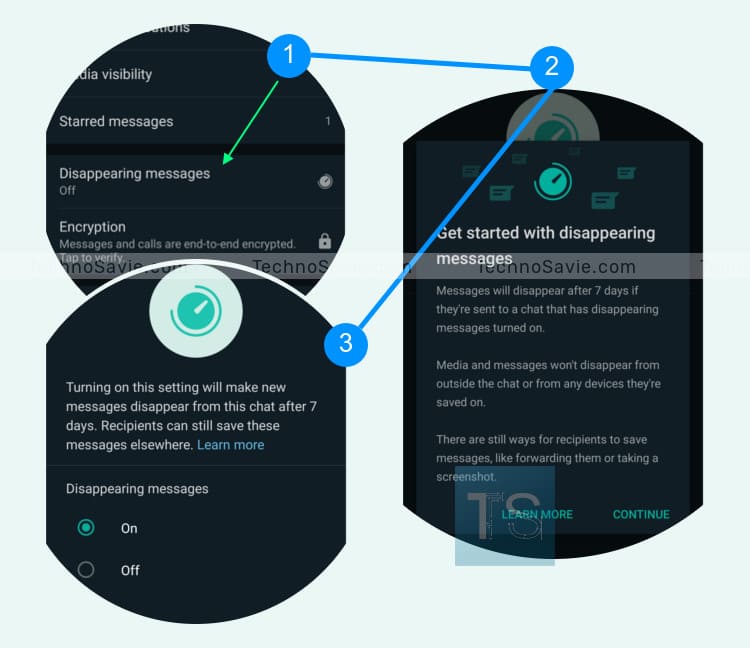 Facts: Disappearing Messages
Facts
Description
7 Days
Once the feature is enabled, if you don't open WhatsApp within seven days then the new message sent in the particular or group chat will automatically disappear.

Though, the preview of the message might still be displayed in notifications until WhatsApp is opened.
Group Chat
Only group admins can turn disappearing messages on or off.
Updated Version
For Android users: 2.21.206.15
For iPhone users: 2.21.121.4.
This is how you can enable disappearing messages in WhatsApp. For more tutorials, visit Techno Savie's How To section.