Have your mind got puzzled while handling online-classes? Then, the Google Meet's Breakout Rooms feature would sincerely help you.
The feature will allow teachers or educators to perfectly manage their online classes and to split students into smaller groups during video calls. It will divide the participants on a group video call in up to 100 breakout rooms. The update is exclusively available to customers of G Suite Enterprise for Education.
Google Meet: Google's Video Conferencing App
Besides the above feature, you can also increase engagement with Q&A, Polling & Attendance Tracking Reports at Meet. Let's explore more…
Facts: Google Meet Breakout Rooms
There is no admin control for this feature as of now. The feature will be available by default in the future.
Only event creators can create breakout rooms.
Teachers & educators will be able to break their classes into smaller groups for projects or focused discussions.
Once the meeting starts, Google will automatically divide people into different rooms randomly. However, it enables moderators to distribute people into different rooms as per their choice.
How to create a breakout rooms?
Open the Google Meet app, and start a video call.
In the top right, tap on the Activities, then ➡️ breakout rooms.
In the Breakout Rooms panel, choose the number of rooms.

You can create up to 100 breakout rooms in a single call.

Call participants will then be randomly & equally distributed across the rooms.
Note: To redo the breakout rooms and put all participants back in the Main room, click Clear.
Is it possible to manually move people into different rooms?
Yes, educators can also manually move people into different rooms.
Method: To manually move people into different rooms, either:

Enter the participant's name or click the participant's name,
Hold down the mouse, drag the name and then drop it into another breakout rooms.
To randomly mix up the groups again, click Shuffle. Then tap in the bottom right and click Create.
As of now, breakout rooms cannot be live-streamed or recorded. Every participant must sign up for their Google accounts from a computer or the app to join the meeting at the breakout rooms.
Read More 👉 G Suite is now re-branded as Google Workspace with many advance security & privacy features
What's new in the coming weeks?
In the upcoming weeks, you can quickly guess the pulse of your students with the help of various new features such as Q&A, Polling & Attendance Tracking Reports at Meet.
Breakout Rooms
Students will get new features like a timer and an "ask for help" option in Google Meet to get the teacher's attention.
The feature will soon be available to all users (including Education and standard Enterprise customers).
Q&A feature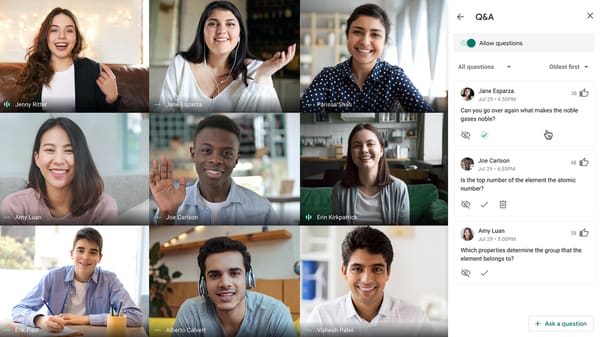 Allows you (as students) to ask questions with your teacher or educator without interrupting the flow of the lesson or discussion.
You have to just type the question & other students can upvote that same question so that depending on the number of likes, the teacher can easily answer high priority questions first.
Polling: Beneficial tool for teachers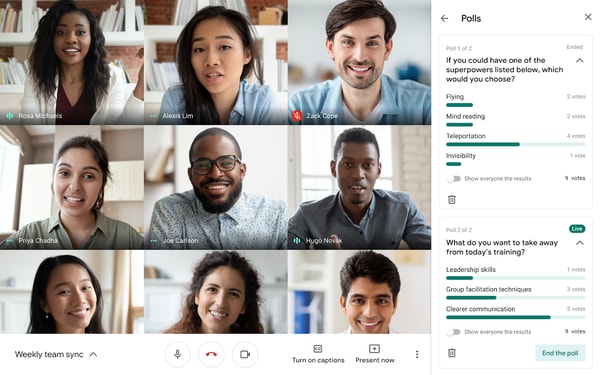 Educators can post an instant poll for students and ask a question about the topic during the session.
With the help of polls, they can also make classes fun with icebreakers to revive class engagement, start discussions, or debate a topic.
This will help educators know if the children have clearly understood the topic or not.
Attendance Tracking Reports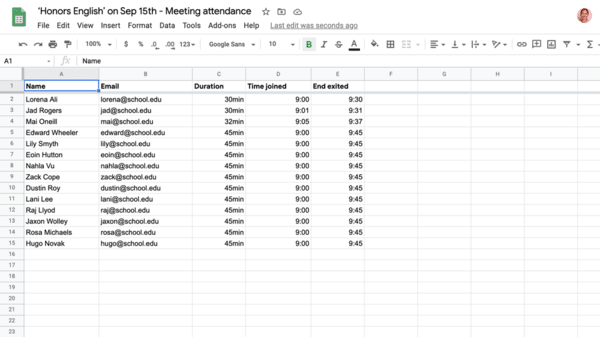 Purpose: To reduce the time taken for teachers to count how many students are really attending the online classes.
The tracking report will have each student's name, email, and the length of time the student was on call, including initial join and exit time.
The reports will automatically be sent to meeting organizers after meetings with more than 5 participants.
Other Updates: Google has extended its free policy on its premium multi-participant video conference meeting till March 2021 and also not imposing the 60 minutes limit on meetings created on the free version of Google Meet.
To get all the latest tech news, like us on facebook and follow us on twitter, instagram & LinkedIn.