Good News! Google Meet users can now take advantage of free unlimited video call meetings (up to 24 hours) on their existing Gmail accounts until March 2021.
Google's free policy on its premium multi-participant video conference meeting was set to expire on 30th September 2020 but once again extended it's deadline due to pandemic COVID-19 crisis.
Apart from this, Google is also not imposing the 60 minutes limit on meetings created on the free version of Google Meet. Here's everything you must know about updated video-calling platform:
Interesting Updated features
You can now sense more fun while connecting on Meet through many updated features. On Google Meet:
Big Screen: You can now see your family on the big screen when you cast your video calls to your TV, or a Smart Display.
Nest Hub Max: You can now enjoy group video calling on Nest Hub Max for up to 32 people.
Blur Background: You can now blur the background of your video to limit distractions during meetings.
Meet 49: You can create & see free Google Meet meetings with up to 49 people (including yourself) at a time in the auto and tiled layout options.
Google Meet: AI-powered Noise Cancellation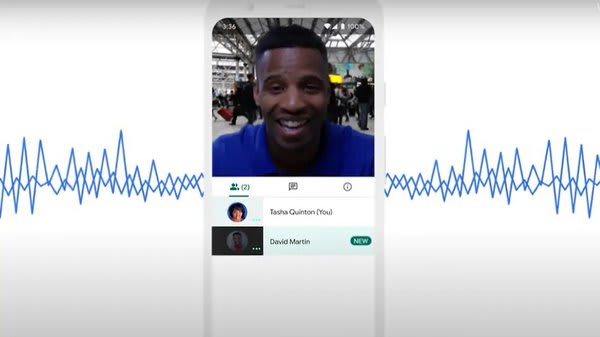 Google meet has rolled out cloud-base noise cancellation feature for Android & iOS devices. The feature will intelligently filter out background (or disruptive) noise on your device. This means Google Meet will automatically remove distracting sounds viz.
dogs barking 🐕,
pen-clicking 🖋️,
typing ⌨️,
closing a door 🚪,
or sounds from a nearby construction site 🏗️
from your mobile device's audio input while still letting your voice through.
Availability
Available to G Suite Enterprise, G Suite Enterprise for Education customers.
Not available to G Suite Basic, G Suite Business, G Suite for Education, and G Suite for Nonprofits customers.
How to Enable Noise Cancellation?
Noise cancellation is off by default on Google Meet, and has to be manually turned on before or during a video call. To use the feature on Android and iOS:
Tap on More options on Settings,
Click Audio,
Turn on Noise cancellation
Click Join now.
Read More Google Drive Trash automatically remove files after 30 days
Google Jamboard: New digital whiteboard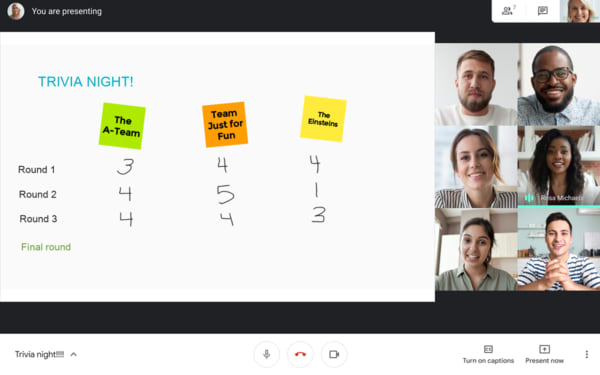 It's the Google Jamboard and Google Meet integration. Here, you –
can create or open an existing jam while on a Meet video call.
will also be able to save, share & continue the whiteboard at any time with Jamboard.
can use the Jamboard virtually to host collaborative brainstorming sessions with your coworkers or students in real-time, even when you can't be in the same room.
Samir Pradhan's Statement
Samir Pradhan, Group Product Manager of Google Meet, stated:
As we look ahead to a holiday season with less travel and important milestones like family reunions, PTA meetings and weddings hosted over video, we want to continue helping those who rely on Meet to stay in touch over the coming months.
Know about Google Meet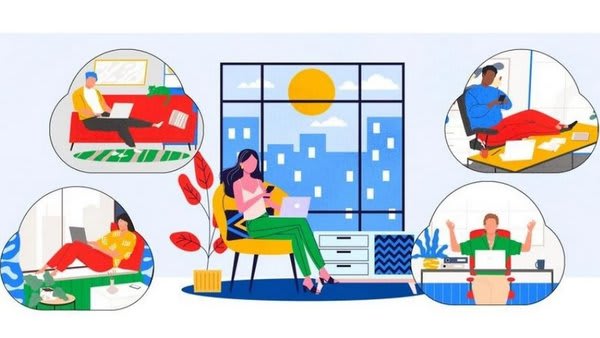 It's a Google's video-communication service, which uses proprietary protocols for video, audio and data transcoding.
Users need a Google account to initiate calls and like G Suite users, anyone with a Google account is able to start a Meet call from within Gmail. Admin hosts can deny entry and remove users during a call due to security reasons.
Google Nest Hub Max
Nest Hub Max (a Google Assistant smart display) is
a TV for your kitchen 📺,
an indoor camera 📷,
a smart home controller 🏠,
a digital photo frame 🖼️, and
also a great way to leave video messages ✉️ and make video calls 🤳.
Even, Netflix is also available on this platform.
Features: You can enjoy Google Photos, YouTube TV, videos, and music on the 10-inch HD screen with stereo speakers. Here, you can also use integrated camera for face recognition, Google Duo video calls, and as a security camera.
For all the latest tech news, Please like us on facebook and follow us on twitter.