Are you willing to enjoy your childhood again! Then YouTube Kids App is for you. Basically, the app is designed for children through it they can watch their loving channels without any hassle. The YouTube Kids content can also be watched on big screen using Chromecast , Apple TV, game consoles or a smart TV.
It is kids' friendly free educational video app i.e. available in India on Google Play Store and Apple App Store .
YouTube's Global Head of Family and Learning, Malik Ducard has said,
"YouTubeKids provides children access to content that will enrich their lives and create new opportunities for learning. It also provides the perfect platform to showcase India's incredibly vibrant, growing community of content creators, from animation studios to edutubers".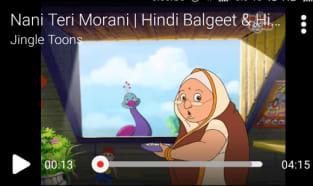 The YouTube Kids app keeps you away from other side of YouTube. It offers a safer YouTube experience by using automated systems to choose content from the broader universe of videos on YouTube.
The app is designed to exclude content that's not appropriate for kids, but it might be possible that children may find something which parents don't want them to watch because YouTube hasn't manually review all the videos.
Welcome to YouTube Kids!
After installing the app, we can access it by entering the number i.e. for Grown-ups only and then choose or select the videos according to the choice of kids or ours too!
Kids can easily browse their favorite channels and playlists in four categories:
Shows includes Moral stories for children in Hindi, Shaktiman, Appu – The Yogic Elephant, Sri Krishna, Virek Rakshak, Cat & Keet, Wild Brain special, Rapunzel, Garfield, Pocoyo, Morphe TV, Powerpuff Girls, Chotu Motu, Pocoyo Channel, etc.
Music includes Galli Galli Sim Sim, Chanda Mama & other most popular Hindi rhythms, the animal sound songs, exclusive Krishna songs, I Love You, Albhabet Songs, Mother Goose Club, ChuChuTV and Kids TV, etc.
Learning includes The Dr. Binocs Show, Songs on the Solar Syatem, G-forces, Smart Learning for all, Coil book, The little bus Tayo, Baby Genius, etc.
Explore includes ChuChuTV surprise eggs, Yoga standing postures, How to draw Chhota Bheem, Tututu TV, Lego Channel, Monster Jam, The Wolf & the Crane, Super Simple TV, etc.
After watching few videos, the app will start recommending videos on the home-screen based on terms they've searched for and videos they've watched.
Recommended includes Cinderella, Rapunzel, Humpty Dumpty Sat on a wall, Alladin ka Chirag, Chotu Motu, Taare Zameen Par, The Little Mermaid, Jhony Johny Yes Papa, Niti Katha, Birbal Stories for kids, Disney Princess Enchanted Journey, etc.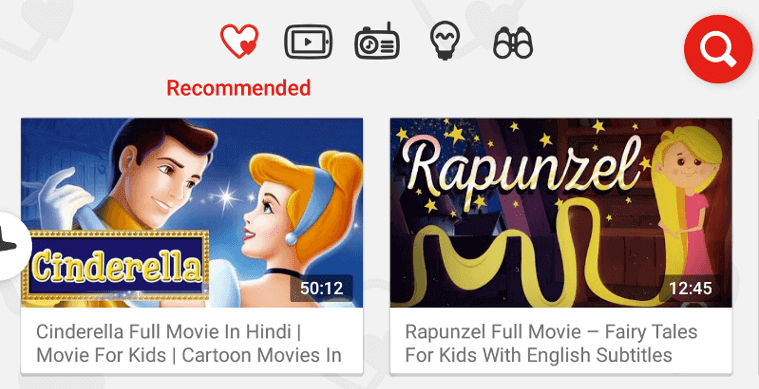 We can also explore our favorite playlists by voice recognition feature.
Precautions Offered by App
The app offers an option to parents through it they can broaden or restrict their kids search.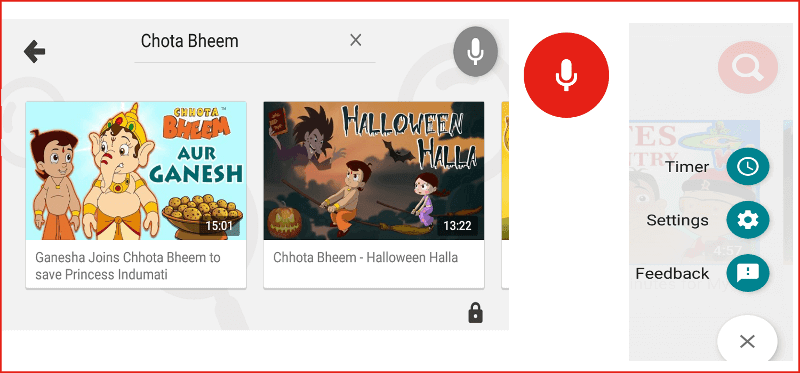 When they turn search on, their child can access millions of family-friendly videos beyond the home screen. This allows them to search for new content on their own.
Whereas, when they turn search off, they limit their child to videos on the home screen, including those the app recommends. Their child can't search for content and recommended videos are based only on videos watched with search turned off. This reduces the chances that their child will encounter a video they don't want them to watch.
They can also limit their kids' screen time by setting a built-in timer between 0 to 120 minutes. When time is up, the app will lock.
They can also put in password, restrict certain content and access settings in the app.
Vinoth Chandar, CEO of ChuChu TV, one of India's most popular kids YouTube channels, said:
"Finally, our wish as a creator and as a parent has come true. As a kids creator we always wanted a separate kids app from YouTube because of the huge consumption by kids. As a parent, we always wanted a friendly digital space for our little ones to consume high-quality content. We are so excited about the launch of the YouTube Kids app and I am sure this is a blessing for all parents. As a creator, ChuChu TV has huge content plans for YouTube Kids. Good Luck to YouTube Kids!"
At last but not least, not only children but we also enjoy our own childhood through this app i.e. missing for long.