YouTube Go – Google's brand new app to download, enjoy and share videos…vo bhi bina data udae! Launched for us.
The app is designed to watch videos on a slower network. It can be used offline, offers search reliability and enables video sharing. It shows a simple interface with a total of only 10 videos by default.
In 2016 September's 'Google for India' event, YouTube Go was announced, which is designed specially for Indians users. Now, you can download the beta version of YouTube Go app from Google Play Store.
Key Features of YouTube Go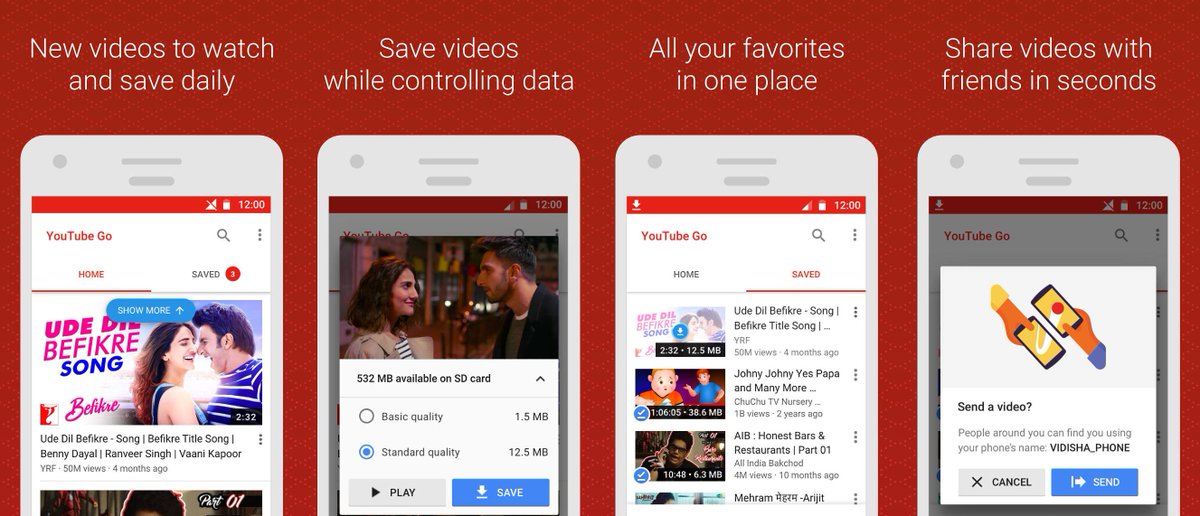 Trending Videos on Home Screen: YouTube Go home screen features trending and popular videos in your area, so that you can find and discover videos that you and your community care about.
Preview Videos Before You Save or Watch: The app will show you a preview of the video when you tap on a thumbnail, giving you a better sense of what the video is about before you decide if you want to watch it.
Save or Stream Videos: You can choose to save a video for offline viewing later or stream it now. The app will also allow you to choose the amount of data you'd like to spend on that video.
Share Videos: You can share videos with friends and family without using any data. You can send and receive videos instantly and offline with others using the YouTube Go app.
Read More: Enjoy your childhood once again through YouTube Kids video app
Introducing the new YouTube Go app in beta – ab mazze udao, data nahi → https://t.co/iawp8c3aET pic.twitter.com/MAinh0o7Bv

— YouTube India (@YouTubeIndia) April 5, 2017

Jay Akkad, YouTube product manager, said
It's relatable, with fresh and relevant video recommendations tailored to your preferences; the app is designed to be offline first and improve the experience of watching videos on a slower network; it gives you more control over data usage, by providing choice and transparency into the amount of data spent on streaming or saving videos.