At an event of Google India on Sept. 27, Google announced couple of new services for Indian users. But focus point of the event is YouTube Go, its a app designed and configure specially for Indians users.
YouTube Go app is all about helping users in India save on data, share and save videos easily. google says this app is a result of extensive research and surveys across 15 cities in India by teams of engineers, designers, and researchers collecting ideas and testing prototypes with hundreds of people.
Johanna Wright ,YouTube Vice President for Product Management said in a press statement
"We've always believed that connectivity should not be a barrier to watching YouTube. In 2014 we launched YouTube Offline so you could watch videos without suffering from buffering. A few months ago we rolled out Smart Offline, a feature that allows you to schedule videos to be saved offline later at off-peak times, when there's more bandwidth so data is faster and cheaper. But we realized that for the next generation of YouTube users to fully discover all that YouTube has to offer, we had to reimagine the YouTube mobile app from the ground up"
Google will soon launch the beta version of the app in coming weeks for Developers and invite only users. if you also want to grab the YouTube go all you have to do sign up on its website.
Features of YouTube Go
Basically YouTube go is better version of YouTube app which is available on the market right now.
YouTube go includes a new preview function where users will able to get a quick preview of the video they are watching, before deciding to watch it or save it on the app. On YouTube Go when you tap on a thumbnail, it'll open a quick preview of the video.
Users will also have the option of choosing their resolution when saving or streaming a video. It will also show the amount of data the app requires before you decide to save the video or watch it.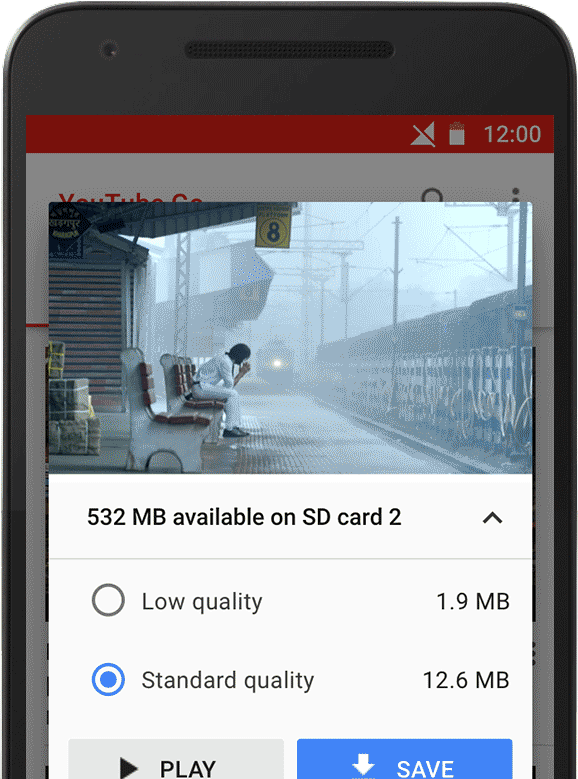 users will share the videos that they saved to near by device without any data cost. it will be done by  WiFi direct or bluetooth.
The Home screen on YouTube Go will show popular and trending videos from close-by when a user opens the app.