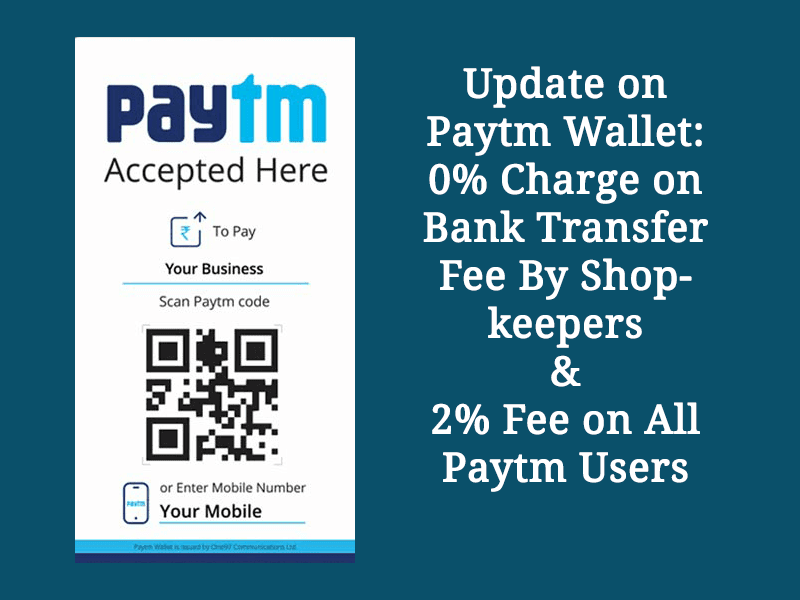 Latest Update with effect from Feb 6, 2017: The fee to transfer money to your bank account will continue to be 0% for all customers and merchants.
Before that, the Paytm Wallet to Bank transfer fee was 2% for Paytm users from February 2, 2017. Though, all self-declared Paytm merchants and shopkeepers were enjoying 0% charges while transferring money to their bank accounts.
Before this update, the fee to transfer money to his/her bank account was 0% till 31st January 2017.
How Paytm Wallet Merchants Can Self-Declare Themselves
In a bid to self-declare, Paytm merchants have to –
Tap on 'Accept Payment' in the updated Paytm app.
Select 'Bank Account' and enter bank details and confirm.
Read the self-declaration & press –"I Confirm".
The Paytm app will typically takes 30 mins to an hour to connect to your bank account. The maximum time can go up to 24 hours.
Caution: Wallet balance of a self-declared merchant should not exceed 20,000 post which the amount is settled directly to the merchant's bank account.

Self-declared Paytm Wallet merchants can now accept up to 50,000
Updates Related to Paytm Wallet
The Paytm Wallet is free and instant online money transfer app and it is one of the simple and securest way to do cashless transaction. Excerpts of the recent Paytm updates are-
Paytm Payments Bank Wallet: Your Paytm Wallet will soon be transferred to the newly incorporated Payments Bank automatically. It will soon bring additional benefits such as a bank account, cheque book and a debit card and you will also earn interest on the money available in your account. There will be no fee for this transfer. To read more, please click Paytm Public Notice Related To Paytm Payments Bank.
Updated Paytm Wallet: There are new features in the latest Paytm app update for fast and more secure cashless transactions viz. Finger print scanner, "Add Money" is now in single-screen, self-declared Paytm merchants can now accept up to 50,000, etc. To read more, please click Latest Updated Paytm For Secure Cashless Transactions.
Check this to know in depth about how to use Paytm Wallet.