DBS Bank is the India's first digital bank. It is Singapore's largest bank and leading financial services group in Asia, with over 280 branches across 18 markets. This bank has been recognised as "Asia's best Bank". On April 2010, DBS Bank launched mobile banking service, mBanking, to DBS.
On 26th April 2016, DBS Bank officially unveiled digibank, India's first mobile-only bank.
Digibank is India's first paperless, signatureless & branchless bank. You can open a digibank e-wallet & convert it to a DigiSavings account with just customer's finger print & Aadhaar card at any of 500 Cafe Coffee Day outlets. DBS mobile application is available for both Android and iPhone users.
Nandan Nilekani, co-founder of Infosys and former chairman of Unique Identification Authority of India, said
"I am very happy to hear that DBS is launching digibank. I have been a great believer that we are now at the 'WhatsApp moment of banking', where paperless, presenceless and cashless transactions are going to completely transform the banking industry. I believe digibank using Aadhaar is a great example of what's to come."
The digibank is working on branchless model of banking. It not only provide you facility of deposit, withdraw and transfer money with lightning speed, but it also permit you to set goals and draw out a plan to achieve them.
Piyush Gupta, CEO of DBS Bank, Said
"India's banking system is at the cusp of massive change, and as a bank committed to shaping the future of banking, we are excited to roll out a revolutionary, mobile-only bank. With digital, we are able to create a completely different customer experience. What's more, digibank's efficiencies and lower costs enable us to pass on significant benefits to customers in the form of greater customer value."
The process of opening digibank account is very simple. Just download the app from play store and register. After that provide details like email, mobile number, residential address, PAN, Adhaar card, etc., to open digibank account, you will get your digibank e-wallet in 90 seconds. In this process, there is no need of paperwork and no need of digital signature. Once you get a digi wallet, you can convert it into a digiSavings account (or fully fledged bank account) with any of DBS partner stores.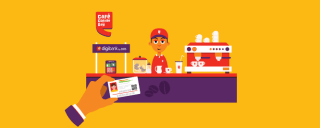 DBS has tied up with Coffee Day Enterprises Ltd. A customer need to go nearest CCD and to carry an Aadhaar or a PAN card and ask for digibank verification and give them the reference number that will be display in DBS mobile app. CCD's staff will ask the customer to provide their fingerprint in a fingerprint scanner. once customer's finger print is verifies with their Adhaar No. it will be allowed to customer to open an account in digibank.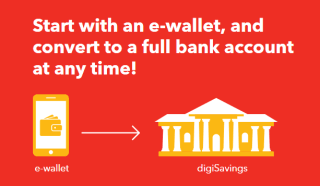 Therefore, user can easily convert its digiwallet into fully fledged bank account by providing Know your customer (KYC).
The digibank provide customer service through 24×7 Artificial Intelligence (AI)-driven Virtual Assistant. There is no need for customers to visit the branch or call to customer care, they can check the transaction history, balances and make payments with the help of their virtual assistant. As virtual assistant understands natural language and has learning ability, it is able to respond in real-time basis. In Asia,  DBS is the only bank harnessing experimental conversational technology from US-based Kasisto, that's work like Siri by Apple.
DBS has branches and offices in China, Dubai, Hong Kong, India, Indonesia, Japan, South Korea, Malaysia, Myanmar, Philippines, Taiwan, Thailand, Vietnam, United Kingdom and United States. In India, DBS headquarters is at Mumbai and it operate banking business via a network of 12 bank branches viz. Bangalore, Chennai, Cuddalore, Kolhapur, Kolkata, Moradabad, Mumbai, Nashik, New Delhi, Pune, Salem and Surat.
Multiple Benefits For Using digibank App:
Account-holders earn 7% interest from the first rupee, one of the highest in the market.
Customers enjoy unlimited free cash withdrawals at over 200,000 ATMs nationwide.
There are no minimum balance requirements.
A physical debit card, which comes with the account, can be used across all Visa-enabled. online and point-of-sale transactions, as well as overseas.
Cricket legend Sachin Tendulkar, said
"With multiple commitments, time is at a premium and every minute matters. The simplicity and ease of digibank encourages customers to live more and bank less. DBS is known for values of being trusted and safe which make them a banking partner of choice."
Features Of Digibank App
Enjoy paperless, signatureless, branchless banking.  There is no need of paperwork and no need of digital signature. Customer can open a digibank e-wallet within 90 seconds.

Paperless, Signatureless, Branchless Banking

Help is at hand. Get your own 24×7 Virtual Assistant, powered by artificial intelligence – a first in Asia.
Digibank is working on branchless model of banking. Customer service provided by a 24*7 AI-driven Virtual Assistant. Virtual assistant in digi bank app created by an artificial intelligence. Custome can get answers anywhere, anytime and real time.

Virtual Assistant

Get money wise with the budget optimise
The budget optimiser provides their customer budget, track expenses, analyse purchasing patterns and even provides actionable advice by understanding customer's behaviour and preferences.

Budget Optimiser

Dynamic inbuilt security, safer & more convenient than OTPdigibank sets the benchmark when it comes to secure banking. It has an embedded soft token for security, which means you avoid the hassle SMS with an OTP to arrive.

Dynamic Inbuilt Security