Digilocker is also known as "Digital Locker" in which we do not need to carry the original documents with ourself all the time. The National Digital Locker System was launched by the Government of India in February 2015 to provide a secure dedicated personal electronic space for storing the documents of Indian Residents. Digital Locker is one of the key initiatives under the Digital India Programme.

The purpose of Digital Locker is to reduce the usage of physical documents and make it possible for Indian Residents to digitally store their important documents on the cloud storage.
The storage space of the DigiLocker (maximum 10 MB at the time of launching & now upgraded to 1GB) is linked to each resident's Unique Identification Authority of India (Aadhaar number) of the user, to securely store e-documents and to store (Uniform Resource Indicator) URI link of e-documents for accessing them directly from the central repository.
Indian Residents can also upload their e-documents such as (Permanent account number) PAN card, income tax statements, Adhar Card, voter id cards, driving licence and vehicle ownership papers, mark sheets & degree certificates and can store identification cards issued by multiple authorities, e-sign facility is also associated with Digital Locker. DigiLocker saves these documents in PNG, JPEG and PDF file formats.
Read More: DigiLocker: Now Digital Aadhaar Is On Fixed And Secure Digital Locker.
The advantage of using DigiLocker is to reduce the burden of carrying lots of original documents, users can show a copy of it on their smartphones. The main aim of the Digital India campaign is to discourage the use of paper in interactions between government bodies and the general public.
The Union Road Transport Minister Nitin Gadkari has launched the integration of DigiLocker with the Driving Licence and Vehicle Registration system of the Ministry of Road Transport and Highways, On September 7.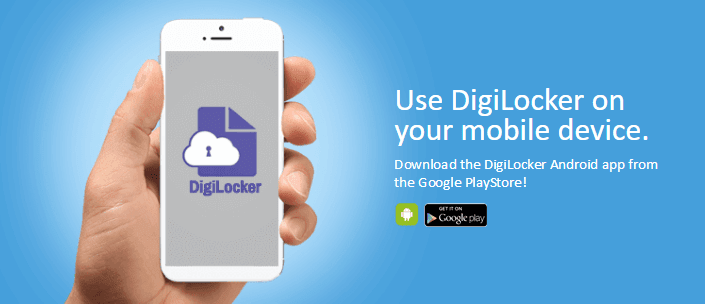 To enroll for the DigiLocker, Download the DigiLocker Android App from the Google PlayStore on your smartphone. This app is only available for Android users. DigiLocker released by (Ministry of Electronics and Information technology) MeitY. User need to link their phone no. with an app for authentication and then send a One-Time Password (OTP) on the user's mobile number. Once the authentication process is completed, user is able to create an account on DigiLocker app.