Taking on the worldwide famous browser players like Google, Bing, and Yahoo, Reliance Jio Platforms launched a 'Made in India' web browser — JioPages — that promises data privacy and security by preventing browsing history from being stored in the system and blocks unsolicited ads and pop-ups.
JioPages
The web browser — JioPages — is built on Chromium Blink engine i.e. touted to provide enhanced browsing experience through:
faster engine migration ⚙️,
webpage rendering 🌐,
faster page loads ⚡,
efficient media streaming 🎞️,
Emoji domain support 😃,
and encrypted connection 🔑.
JioPages browser is entirely conceptualized and designed in India, and provides users with options to personalize themes and content. It has the ability to view trends and important headlines via informative cards.
It comes with a PIN-locked Incognito Mode 📌 and built-in Adblock Plus 🛡️. The browser also has an option to select a personalized theme that includes a dark mode for an eye-friendly viewing experience at night.
Read More 👉 How to spot Deep fake Videos using Artificial Intelligence (AI)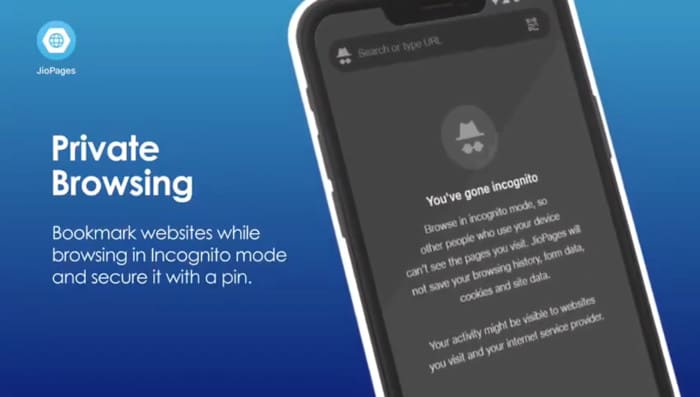 The most notable feature of the JioPages browser is that you can set any of the dominant search engines including Google, Bing, and MSN, as a default search engine.
As of now, the browser is launched only for Android smartphones, while the company intends to provide support for other Operating Systems such as iOS shortly.
Reliance Jio Platforms is a wholly-owned subsidiary of Mukesh Ambani-run Reliance Industries.
8 Smart Features: JioPages
Features
Description
Regional Languages
Supports 8-Indian languages – Hindi, Marathi, Tamil, Gujarati, Telugu, Malayalam, Kannada & Bengali – along with English.
Personalized theme
1. You have an option to choose a variety of colourful background themes to increase browsing experience.
2. You can also switch to Dark Mode for an eye-friendly viewing experience at night.
Smart Download Manager
1. The browser automatically categorizes downloads according to the file type – Image, Video, Document, or Pages.
2. This makes file management easier for the user. Therefore, you can easily find downloaded pictures, videos, documents, and saved pages.
Personalized Content
1. The browser will display personalized content as per the user's preference in terms of language, topic, and region.
2. JioPages sends notifications only on topics that are either important or of interest to the user.
Informative Cards
Provide live updates on topics of your choice.

Captures key numbers, trends, symbols, or headlines of a given topic, such as cricket score, stock market trends, commodity prices or cricket score, and displays them as compact clickable banners on the screen.
Private Browsing
1. You can bookmark 📑 websites while browsing in Incognito mode and secure it with a pin.
2. You will also have the option of setting a four-digit security PIN 📌 or fingerprint as an access code to the Incognito mode.
Personalized Home Screen
1. You will be able to choose your default search engine such as Google, Bing, Yahoo, and Duck Duck Go.
2. You can also pin the links of their favourite websites on the home screen for quick and easy access.
Built-in Adblock Plus 🛡️
1. Blocks unsolicited ads and popups to provide a seamless browsing experience.
2. supports a list of acceptable ads and allows users to whitelist domains.
How to download JioPages browser on your mobile?
JioPages can be downloaded from the Google PlayStore.
Reliance Jio 5G & Qualcomm effort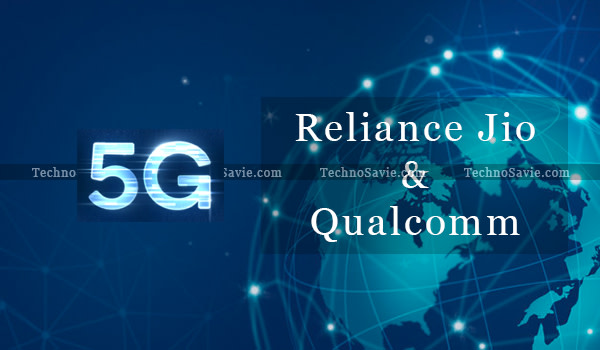 Furthermore, to accelerate the realization of Atmanirbhar Bharat for an inclusive 5G nation, Qualcomm Technologies & Reliance Jio announced their expanded efforts for 5G network solutions. Both the companies achieved over a 1 Gbps milestone on the Reliance Jio 5GNR software by harnessing the potential of the Qualcomm® 5G RAN (Radio Access Network) Platforms. This work is intended to fast track the development and roll-out of indigenous 5G network infrastructure and services in India.
Read More 👉 Jio 5G Effort: Achieve over 1 Gbps in trials