Do you think finding a public toilet is a difficult task while going for shopping or on trip or any another place? Then, download Swachh Bharat Toilet Locator App (or Google Maps Toilet Locator) that will help you to locate the nearest public toilet using Google Maps and put a stop to Open Defecation for Clean India Mission.
Good News! the app will soon cover 85 more cities till 2nd October 2017, the day which will be remembered as the 148th birth anniversary of Father of Nation "Mahatma Gandhi".
According to Times of India, the Indian Government will soon extend the Toilet Locator app to 85 cities such as Agra, Ajmer, Ahmedabad, Bhilai Nagar, Bhubaneswar, Dhanbad, Greater Mumbai, Guwahati, Jaipur, Jammu, Kochi, Vijaywada and Greater Bengaluru.
For this noble cause, the Ministry of Urban Development proposed the municipal bodies to tie up with Quality Council of India (QCI) for mapping all public and community toilets. The QCI shall be responsible for provisioning of the Information and Communication Technology (ICT) platform and help desk services enable collection of data on public and community toilets in the city.
As per the sources, the Union Ministry will also start a reward scheme to motivate users to give their feedback and rate the toilets in its bid to popularize the app.
How to use Google Maps Toilet Locator?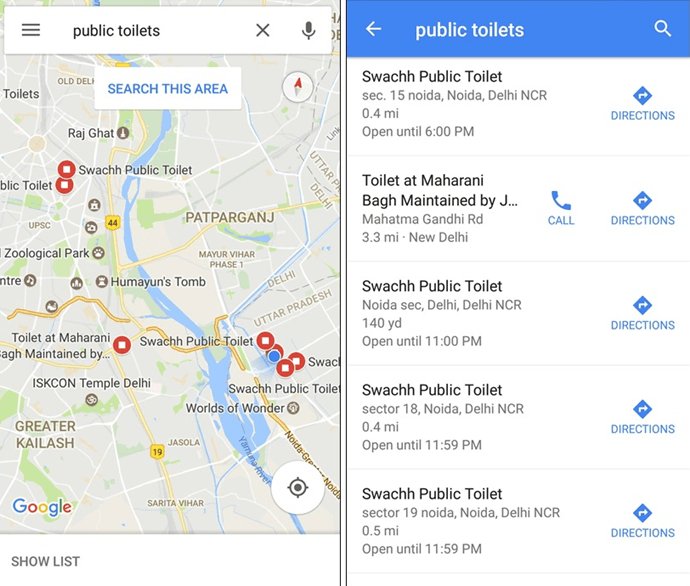 You have to just download an app from Google Play Store and simply tap on Google Maps from your smartphone to locate a public toilet nearby. That's it!
Beside Google Maps, the app has many other features such as cleanliness ratings, style of toilet seats and whether the toilet is paid or free.
Now find the nearest public toilet using @Google Maps. Let's put a stop to Open Defecation. #MyCleanIndia #ODFhttps://t.co/DTXxZBj7YY

— Swachh Bharat Urban (@SwachhBharatGov) May 19, 2017
The Google toilet locator is a part of Swachh Bharat Abhiyan to stop public urination and open defecation, and to improve the country's sanitation standards.
Initially, the Swachh Bharat Toilet Locator App was launched in New Delhi and regions around the national capital in December 2016.
स्वच्छ भारत की स्वच्छ पहचान
Dial 1969 – To create #SwachhBharat #MyCleanIndia pic.twitter.com/q9YC9ghcqk

— Techno Savie (@TechnoSavieNews) May 23, 2017