Flipkart's PhonePe is the India's first Unified Payments Interface (UPI)-based payments app, which is 100% safe and secure and is powered by Yes Bank. To get started with PhonePe App, you need –
Smartphone with internet access.
An Indian bank account that supports UPI payments.
Link your bank account to UPI through the app.
Link your mobile number to your bank account that you used to register on PhonePe.
How to Use PhonePe App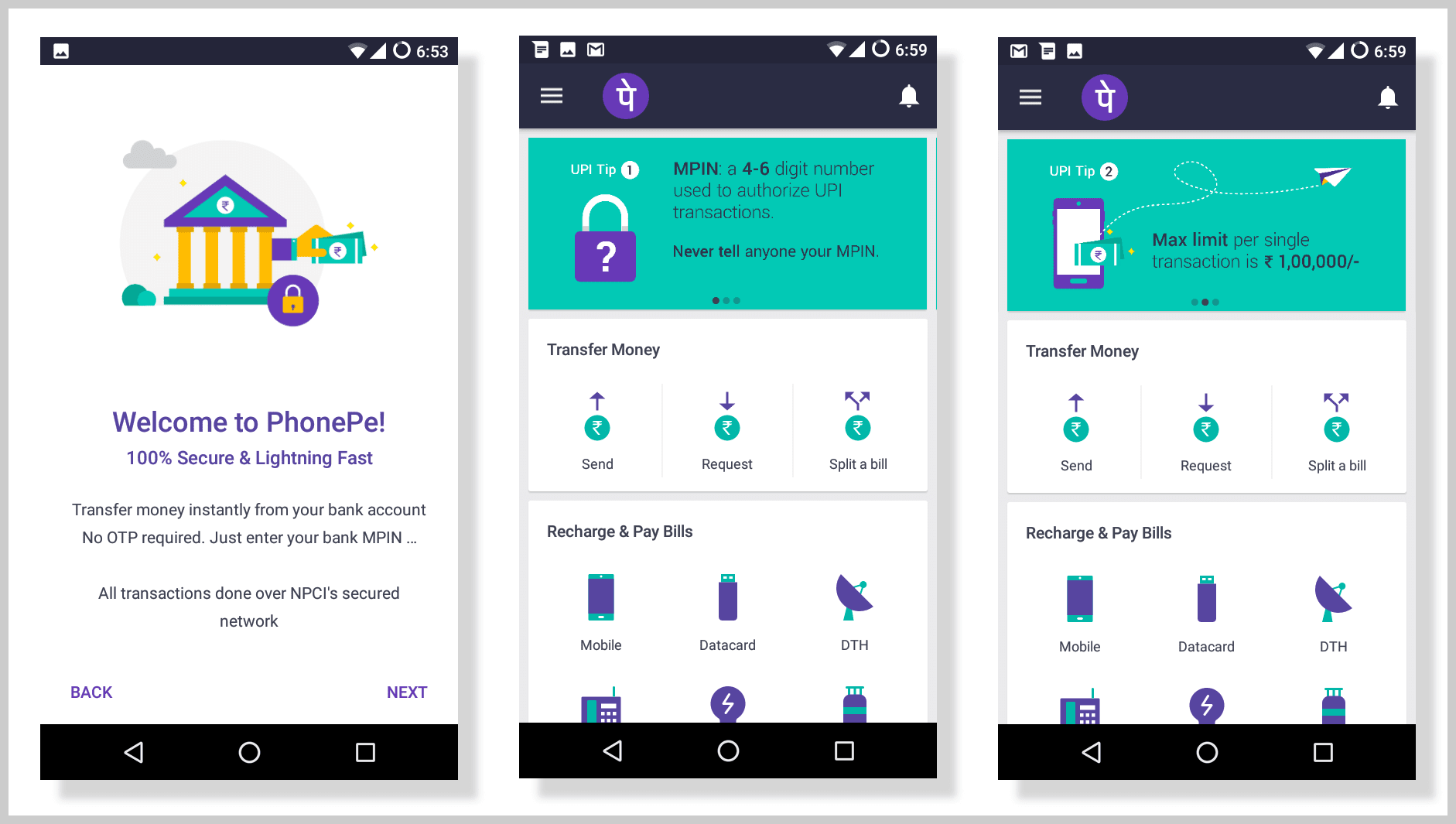 Download:  Download the app from Google Play Store and Apple App Store.
Verify Mobile Number: After downloading the app, open the app and verify your mobile number (your registered mobile number should be the same as the one registered with your bank account).
Details: Enter your name, email address and set your 4-digit password and activate your wallet.
Virtual ID: Tap on Create New Virtual Private Address (VPA).
Link: Link your bank account to the app by selecting your bank and the app will automatically fetch the details.
Confirm: Confirm your bank details and start using the app to send or receive money or transact online with ease.
Snapshots of PhonePe
100 % secure & lighting fast mobile digital wallet app.
PhonePe does not store any user data or passwords.
Per transaction maximum limit is 1 lakh.
Provide service 24×7 hours.
The app allows us to link our bank accounts securely to our smartphone using National Payments Corporation of India (NPCI)'s encrypted software.
Payment Options on PhonePe
The following options are available on PhonePe:
PhonePe Wallet – Powered by PPI licence issued by the Reserve Bank of India.
Linked Bank account that supports UPI payments.
Debit / Credit Card – Powered by TechProcess Payment Services Ltd.
If your Bank or your Bank account is not live on UPI, you can still add your bank account to the PhonePe app. Though, you will only be able to receive payments or withdraw your wallet balance into it. Payments using a bank account is only enabled for Bank accounts active on UPI.
Transaction Limits in PhonePe
The transaction limits on PhonePe for various transactions are as follows:
Wallet transactions: As per new RBI guidelines, your monthly wallet top-ups cap up to 20,000 and a maximum per transaction limit of 20,000.
Bank account transactions (UPI): Transfer limit through your bank account is 1 Lakh per transaction.
Credit/ Debit card transactions: Same limits as that enforced by your card issuer/ bank.
Wallet balance withdrawal: You can withdraw upto 5000 from your wallet balance into your bank account per transaction.