With BHIM Aadhaar – No Internet, Mobile, Cards or Wallets needed anymore! That means, any  Indian citizen can transact digitally by using his/her THUMB only, that will ultimately hit the victory bell of Digital India.
Read More  All you need to know about Bharat Interface for Money (BHIM) for cashless payments.
Now, merchants will use your thumb imprint for payments. Really incredible BHIM!
This new biometric-based payment system has been launched by our honourable Prime Minister Narendra Modi for us on the 126th birth anniversary of Dr. Bhimrao Ramji Ambedkar, the chief architect of Indian constitution.
Mr. Modi lauded his voice on BHIM Aadhaar that India will only now need its THUMB to pay Digitally.
BHIM Aadhaar
BHIM-Aadhaar, the merchant interface of the BHIM App, will pave the way for making digital payments by using the Aadhaar platform.
Any Indian citizen can pay digitally using their biometric data like their thumb imprint on a merchants' biometric enabled device which could be smart phone having a biometric reader.
Any citizen without access to smart phones, internet, debit or credit cards will be able to transact digitally through the BHIM Aadhaar platform.
Already, 27 major banks are now on board with 7.15 lakh merchants so that they can start accepting payments using BHIM Aadhaar.
Working of BHIM Aadhaar
Only Indian merchants need to download and install BHIM-Aadhaar App.
 After that, to enable the transactions through BHIM-Aadhaar, merchants will have to purchase fingerprint scanners.
After installing the app, merchants can receive payments from a customer through their 12-digit unique Aadhaar Number.
The payment is processed from the customer's Aadhaar-enabled bank account.
In order to verify the payment, the customer would require to scan his/her fingerprint on Merchant's merchants' biometric enabled fingerprint scanner device.
Then, the fingerprint will be compared against the customer's Aadhaar card data.
Finally, the process of receiving payments through customers will be completed. That's it!
Apart from this, Mr. Modi has also launched two new incentive schemes for BHIM App – Cashback & Referral bonus – with outlay of 495 cr for 6 months, till October 14, 2017.
Incentive Schemes for BHIM App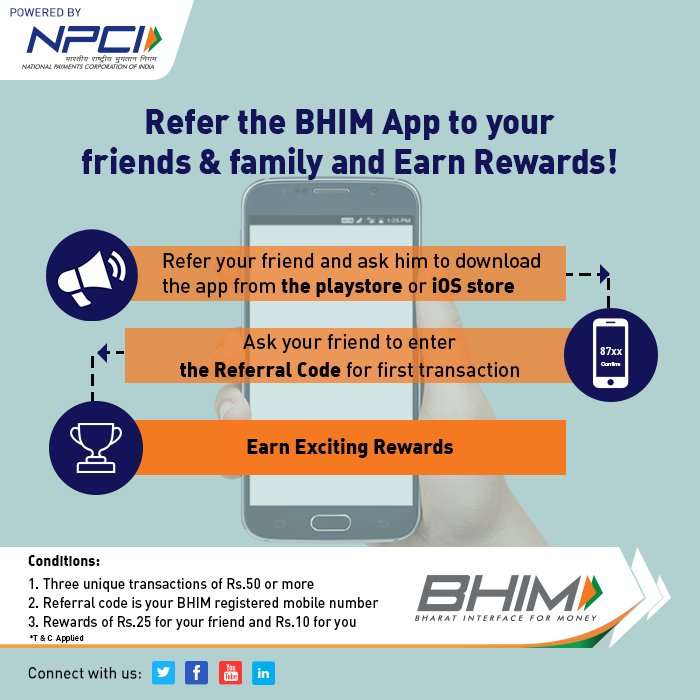 Referral Bonus Scheme: In it, both the existing user who refers BHIM and the new user who adopts BHIM would get a cash bonus credited directly to their account.
Cashback Scheme: The merchants will get a cash back on every transaction using BHIM.
Both schemes are to be administered by MEITY and implemented by NPCI.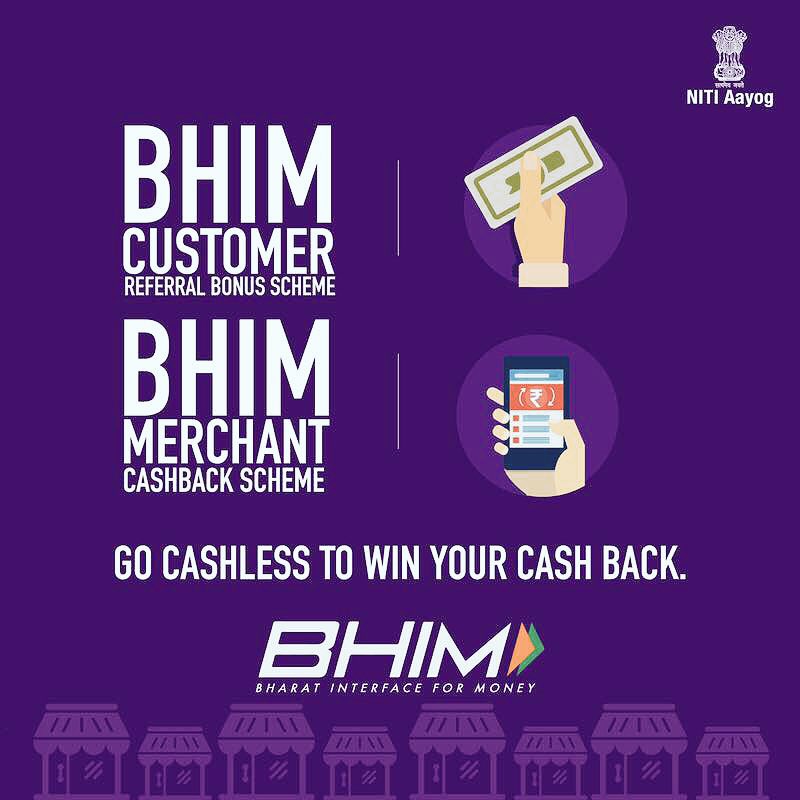 BHIM Referral Bonus Scheme (For Individuals)
The Referral Bonus scheme will incentivize existing BHIM users for bringing new users on the BHIM platform and encouraging the new users to do transactions with others using BHIM or by referring new users on BHIM. Therefore, the bonus will be paid to both the referrer and the new user of BHIM (referee). The referral will be considered successful only after 3 unique successful financial transactions have been completed by the new user.
On completion of minimum 3 unique successful transactions totaling only 50 to any 3 unique users (either to customers or to merchants), the referrer and the referee will be notified about the bonus amount via notification in BHIM app. The referrer will get 10 per successful referral, while the new users will get 25 for downloading and transacting from BHIM App.
BHIM Merchant Cashback Scheme
The purpose of the scheme is not only to increase the number of merchants registered on BHIM, but also to increase the number of merchant payment transactions using BHIM.
The scheme incentivizes not just one-time adoption of BHIM by merchants, but will also encourage transactions via BHIM mode (either QR code or VPA or Mobile number or "Pay to Aadhaar"). The cashback to the merchant can be up to 300 per month, with each merchant eligible to win up to 1800 in 6 months.
Read More Difference in Digital Payment Options among BharatQR, BHIM and *99#.