On February 2017, Microsoft launched Skype Lite app for Indian market with new and integrated features. On Wednesday, 5th July 2017 Microsoft India announced the Aadhaar integration within Skype Lite app. Aadhaar is the world's largest biometric ID system & is a 12 digit unique-identity number issued to all Indian residents based on their biometric and demographic data.
Microsoft posted on its blog,
Aadhaar is considered to be the world's largest national identification number project and allows users in India to communicate with government, business, and others with a higher level of trust and lower potential for fraud. With the latest version of Skype Lite, Aadhaar integration can be used to verify users' identity online, helping them communicate more securely with others.
For example: you may wish to make a Skype Lite call to an important business client or government representative – by using Aadhaar, both parties can verify their identity at the beginning of the call to prevent impersonation fraud.
How to Integrate Aadhaar with Skype Lite
User should have latest version of Skype Lite.
Person can request Aadhaar verification over a video call.
Click on Verify Aadhaar identiy and enter your 12 digit Aadhaar number and authenticate with a One Time Password which will be sent via SMS.
Once user validate, user can choose to share their Aadhaar information with the other contact to confirm their identity.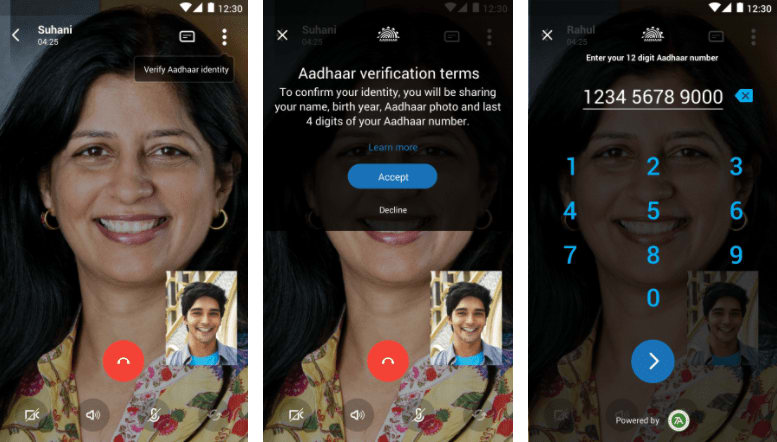 Microsoft said,
You'll still get the same great Skype Lite experience during the call and once you've finished speaking, both parties will see the Aadhaar verification captured as an event within the conversation. Skype will not store any Aadhaar information and as always, your personal information including your video and audio conversations is securely encrypted.