Are you interested in Journalism or have desire to create awareness among people about the loopholes of your stream? If yes! Then, through Google Bulletin app – you can publish your own news content. This new platform by Google will help you to become the voice of your locality.
Speciality at Google Bulletin
It is free, lightweight app & can be access directly from your phone. No setup is required to create a story.
Basically, it can be termed as Citizen Journalism App.
In public domain, one can easily spot & discover your stories on Google search through social networks, or via links sent by email and messaging apps.
How do one can create Bulletin story?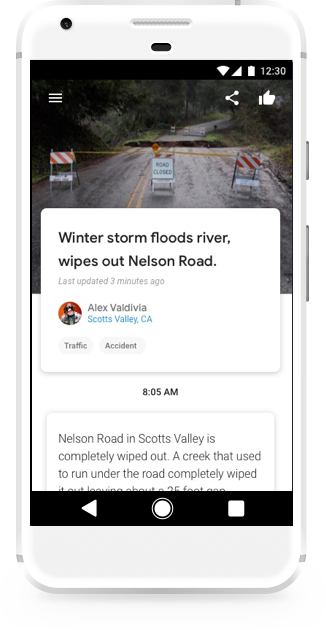 If you can text, if you can take a photo, if you can shoot a video right from your smartphone, then you can create a Bulletin story! Here, you can publish your story straight to the web (without having to create a blog or build a website).
Google stated that:
Bulletin makes it effortless to put a spotlight on inspiring stories that aren't being told.
Hence, one can say, Google Bulletin will be one of striking tools for the media freedom.
It will not only help local reporters but also helpful for Professional journalists. According to Democracy Index 2017, free speech is under attack. Hence, we can say this tool will be effective for those who will become voice for others.
Read More Google Calendar's new look for Web: Know new Features
Twitter v/s Google Bulletin
Google will have to face stiff competition with other social media sites such as Twitter, Facebook, Instagram, etc. where people quickly share & tweet news immediately after anything happens nearby.
Though, the Bulletin stories will find a place on the live coverage of local news because of easy search feature on Google search.
India on Democracy Index 2017
The latest 10th edition of The Economist Intelligence Unit's Global Democracy Index (GDI) records the worst decline in global democracy in years. A special focus of this year's report is the state of media freedom around the world and the challenges facing freedom of speech.
Furthermore, India has been ranked 42nd out of 165 countries at the EIU Global Democracy Index due to rise of conservative religious ideologies and increase in vigilantism and violence against minorities as well as other dissenting voices. This year's report which also measured the state of media freedom around the world noted that in India, media is partially free.
Google Bulletin in India
Right now, the Google Bulletin app has limited access in Nashville, Tennessee, and Oakland, California.
Like us on facebook and follow us on twitter for latest tech news.