Google moves from software company to hardware. On 4th October, Google has announced new Pixel phones, a smart voice assistant-powered speaker called Google Home, a VR platform and Google Chromecast Ultra: 4K-version at its "Made By Google event".
Google Home is a new range of personal assistant-based speaker to take on Amazon's Alexa. Google Home powered by the Google Assistant.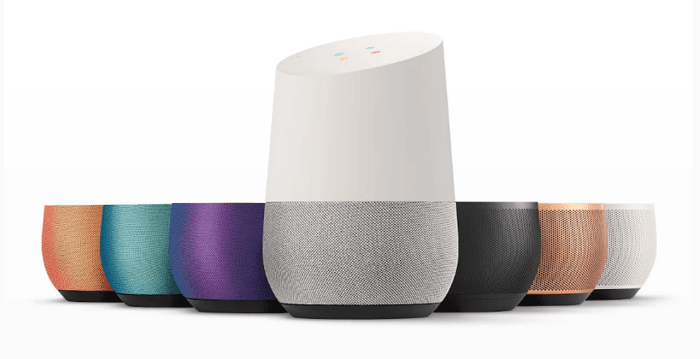 Google Home is a voice-enabled wireless speaker.Google Home is a cylindrical speaker and it is operated by voice only. It was announced on 18th May 2016 and it will be available in stores on 4th November 2016 priced at $129.
Google CEO Sundar Pichai said
"all credit to Amazon for creating interest in this space".
Google Home works over Wi-Fi and its integrated high-excursion speaker delivers crystal-clear highs and rich bass for hi-fi sound It allows to user play tunes from services like Spotify, YouTube Music, Pandora and more. User can also stream music from Their mobile devices to 100+ Cast-enabled apps by giving an "Ok Google" voice command. Google Home can stream music directly from the cloud. Google Home will work in a similar way to the Chromecast, so user can choose a song from Google Play Music and it will also play on Google Home device. Google Home will also control video content. Google Home is able to connect to multiple Home speakers wirelessly, reaching multiple rooms.
Design
Google Home is 5.62 inches high, and 3.79 inches in diameter. It weighs 16.8 ounces. The design represents a modular cylindrical shape, and will have 4 LEDs on the top that are in the same colors as Google's logo that indicate power. The top surface is a capacitive touch panel, which can be used to pause music, adjust volume, trigger the Google Assistant, etc.
Features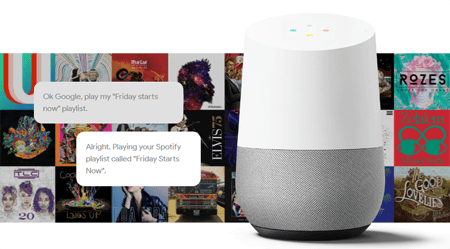 Command your audio: Google Home to play music, podcasts or radio from services like Google Play Music, Spotify, YouTube Music, Pandora and TuneIn. Multi-room audio, Users will get the latest news from sources their trust, they can listen their favorite podcasts and favorite radio stations. Speaker streaming and control, TV streaming and control features are also available.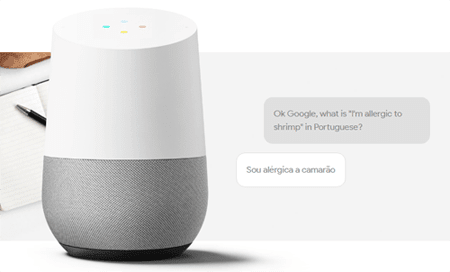 Ask it anything: User will get an answer of complicated calculations, definitions and spellings for words, definitions and spellings for words, answers to everyday questions, user can ask about current individual stock prices or current points of an index, like the NASDAQ.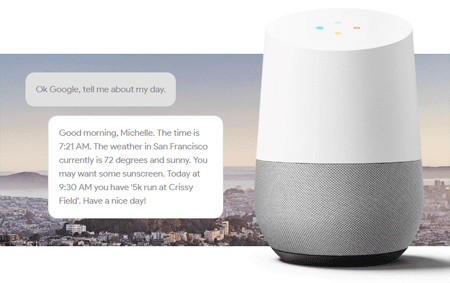 Plan to do more: Google Home can retrieve user's flight information, set alarms and timers, and even tell user about the traffic on their way to work. It will search for local places and ask for additional information, user can get a curated daily snippet about their day , add items to user's Shopping list, ask for current weather or forecasts for the week.
Voice-control: Google Home connects seamlessly with smart devices like Chromecast, Nest and Philips Hue, so you can use your voice to set the perfect temperature or turn down the lights.
Specifications
Dimensions
Diameter: 3.79 in (96.4 mm)
Height: 5.62 in (142.8 mm)
Power cable: 1.8 m>
Weight
Device: 1.05 lbs (477 g)
Power adaptor: 4.58 oz (130 g)
Colours
Body: White
Base: Slate fabric
Supported audio formats
HE-AAC, LC-AAC+, MP3, Vorbis, WAV (LPCM), FLAC with support for high-resolution streams
Wireless
802.11ac (2.4GHz/5Ghz) Wi-Fi for high-performance streaming
Power
Required 16.5 V, 2 A included
Ports and connectors
DC power jack
Supported operating systems
Android 4.1 and higher
iOS 8.0 and higher