Google has launched its smart messaging mobile app Google Allo on September 21, 2016, which only requires a phone number. It would compete with its rivals WhatsApp, Facebook's Messenger and Apple's iMessage.
The latest mobile chat app Google Allo is free and is available on both Android and iPhone.
In Google Allo, user can chat in three different styles i.e. Normal messaging, a direct conversation with the virtual assistant and incognito chats (which are end-to-end encrypted and feature disappearing messages).
Google Allo Features
Smart Reply: The app not only has ability to quickly predict the responses of text-bases messages and content receive, but also provide quick smart replies to sent images of flowers, etc. It gives automatic suggestions based on user's usual replies. This feature is only available in English.
Google Assistant (@google chatbot): It is an intelligent personal assistant by which user can ask questions on real time basis such as latest news, weather, preferable restaurants, sports, alarm set, upcoming train/flight status, find photos, book a movie, interesting facts, poems, proverbs, YouTube videos, save information and many more. This feature is also available in group chat and all the members of the chat will be able to see the search results. Such as, there is 'I'm bored' button by clicking on it, user's Assistant shows them a funny video. This feature is only available in English.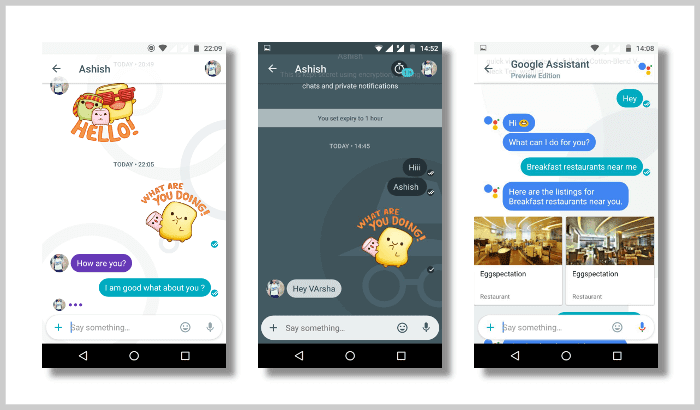 Incognito Mode: Here, messages are not encrypted end-to-end by default (unlike on WhatsApp). The user has to switch to an incognito mode to do so and has to set how long they exist before they're deleted. Apart from this, additional privacy features such as discreet notifications and message expiration are also available on this mode. All chats in Google Allo are encrypted using industry standard technologies like Transport Layer Security(TLS).
Hinglish: The app has enabled smart replies in "Hinglish" and rolled out 200 stickers created by popular independent artists that are specifically relevant to Indian users.
SMS Contacts: User can also send messages to friends or relative who are not using Allo through SMS. It will land as a message to download the app but the recipient can send a reply to user as SMS.
Whisper or Shout in Messages: If user wants to whisper or shout while messaging then this feature is helpful for him. It allows user to increase or decrease the size of a message to represent volume.
Image Illustration: The app has ability to doodle on photos or adding text on them like Snapchat. This feature is only available in Android.
Stickers:  If words are not enough to express emotions, then user can use prefect sticker to add fun in between chatting. These are designed by independent artists and studios from around the world.
Different Sized Messages: The app has ability to send larger and smaller versions of text messages and custom-designed stickers.