Nowadays, there is a boom of Digitization everywhere – whether it is related to Digital Banking, Digital Locker, Digital Aadhaar, Digital Address, or Digital India, we are in sphere of digitization.
Now, the new term is coming towards us in form of Gold (that we love most) – Digital Gold.
Paytm Digital Gold – the unique way to buy, store and sell pure gold instantly. You can also get this gold delivered at your home in the form of minted coins or sell it back online instantly.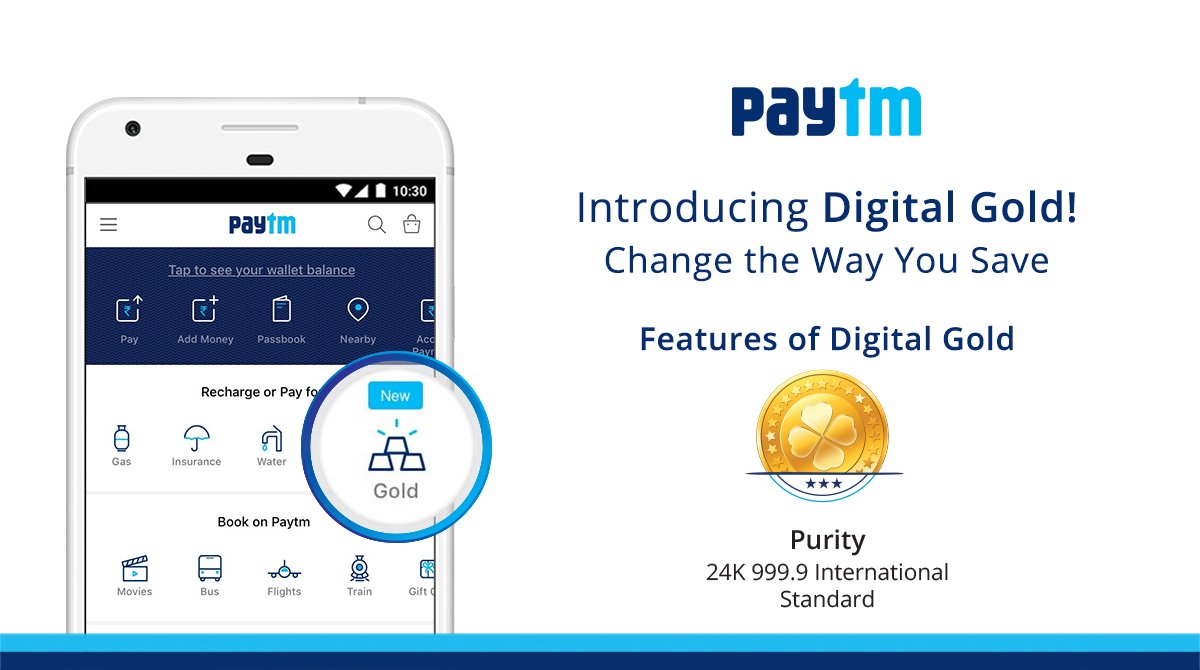 For this, Paytm has exclusively tied up with MMTC-PAMP
(India's only Internationally Accredited Refinery) so that you can buy 24K 999.9 Fine Gold instantly and store it in the India's most secure, 100% insured MMTC-PAMP vault at no additional charge. You can buy and sell gold for any amount starting at 1.
Read More: Paytm Wallet Handbook
MMTC-PAMP

MMTC-PAMP India Pvt. Ltd. – A joint venture between India's MMTC (a Government of India Undertaking) and Switzerland's PAMP SA (the world's leading bullion brand). It operates under the direct technical supervision of PAMP. It produces a wide range of products and has obtained the license for minting the Sovereign for The Royal Mint. The facility has been accredited as 'Good Delivery' Gold and Silver Refinery by the London Bullion Market Association (LBMA) and is thus India's first and only LBMA accredited gold and silver refinery.
Features of Paytm Digital Gold
Buy & store Gold for any amount.
24K 999.9 Gold purity.
MMTC-PAMP certified.
100% secured storage in MMTC-PAMP vaults.
Real-time Global-market linked pricing.
On-Demand delivery.
Buying convenience.
Sell or get it delivered anytime-anywhere.
How to buy Paytm Digital Gold
Open Paytm App and tap on 'Digital Gold'.
Select 'Buy Gold' and choose the options to buy in Grams or in Rupees.
Then, fill in the details and proceed to pay.
Congrats 10 gram or 1000 precious gold is yours.
How to sell Gold online to MMTC-PAMP
Open Paytm App and tap on 'Digital Gold'.
Select 'Sell Gold' and choose the options to sell in Grams or in Rupees.
Enter bank account details and proceed.
Your account will be credited immediately.
What if you want to get Gold Delivered
Open Paytm App and tap on 'Digital Gold'.
Tap on 'Request Deliver' and choose your gold coin from the catalog.
And, it will be delivered at your home.