Update on 6th October 2020: Finally, the LinkedIn Stories feature is available in India.
The new exciting features have been officially rolled out on the professional networking site LinkedIn. Now, you can freely share your professional LinkedIn Stories & enjoy many other notable features viz.
A refreshed design 🎨
Streamlined search results 🔎
Video calling integration 🤳
New messaging features 💬
You will feel happy that LinkedIn will now allow you to start a video call over Microsoft Teams, Zoom, or BlueJeans by Verizon directly from LinkedIn messages.
LinkedIn Stories
The new feature works like "Stories" on Instagram. It will allow users to share what's happening in their professional life on their profile.
You needn't worry that the content would permanently be attached to your profiles. It will last for only 24 hours, and after that your post content will disappear.
Availability: 🇮🇳 India, 🇺🇸 United States, 🇨🇦 Canada, 🇫🇷 France, 🇦🇺 Australia, 🇧🇷 Brazil, 🇳🇱 Netherlands, and the 🇦🇪 UAE (soon be expanded globally).
Is LinkedIn Stories version differ?
LinkedIn stories are almost similar to story format of other platforms – Instagram, Facebook, or Snapchat. Though, the LinkedIn version offers the following unique tools that spark the stories in conversations:
Question of the Day: LinkedIn will pose a question of the day to all users which they can respond to with a story.
Localized Stickers: In each region, LinkedIn will have unique stickers that users can add to their stories.
How to post LinkedIn Stories?
To post a story on your profile, open your LinkedIn app and touch the circle with your photo, then tap on the plus icon ➕ on the top left corner to open the camera 🤳. You can:
Record the video or take the photo directly through the app
Upload video (up to 20s) or image.
You can also choose to add a sticker and / or text.
Just like Instagram, you can tag other users too with @
To create a new Story after posting your first Story, tap the plus icon ➕ on the top left or bottom right corner once you go into your previously published Story.
New Look and Feel for LinkedIn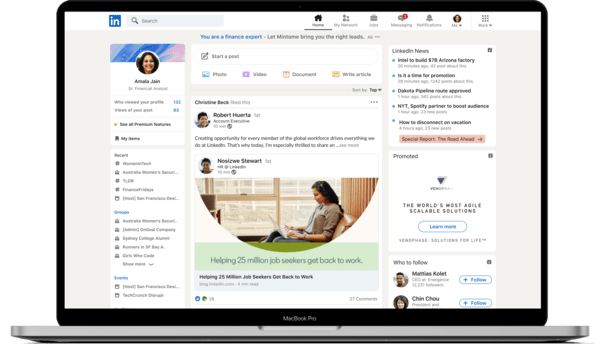 For approx 706 million LinkedIn users, the new design is more simpler, modern, and intuitively structured for easily navigate site and app. The makeover includes more white space.
LinkedIn Streamlined Search Results
Its search experience is also refreshing and streamlined. Search results will now cover all aspects of LinkedIn. That means users can search for more than just people and jobs. They can now use the search bar to find relevant groups, contents, and events.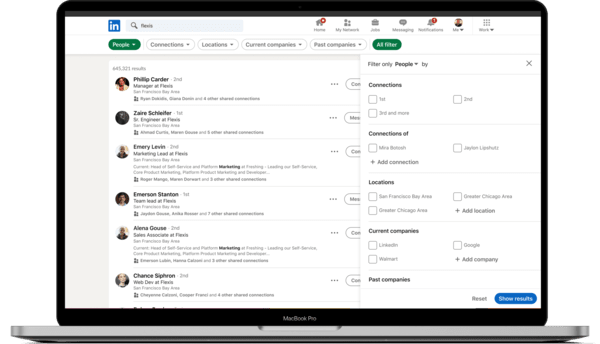 Read More Youtube Shorts: Best Option to TikTok?
Updates to LinkedIn Messages
LinkedIn has introduced a variety of new messaging features: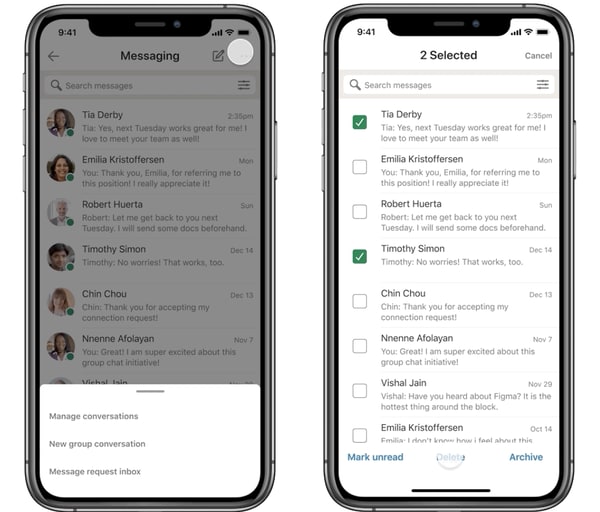 Bulk Manage: Select multiple conversations (or messages) at a time to archive, delete, or mark then as read / unread.
Edit/Delete: Edit or delete a message after it has been sent. Check how to use it:

On Mobile, press-and-hold or double tap on the message to open up a menu of options.
On Desktop, hover over the message until you see a pop-up with "…". From there you'll see the options to edit or delete.
Emoji Reactions: Quickly react to messages or stories with an emoji (👏 👍 👎 🙂 😔).
Video Meeting: You can switch the conversation from chat to face-to-face using Microsoft Teams, BlueJeans, or Zoom.
Report inappropriate messages without hesitation: You'll have the option to view (and report), or dismiss and mark as safe.
Invite: You can also invite others to join an existing conversation, while keeping the original conversation history private.

How it works: From your existing conversation, go to the top right hand corner "…", and click "new group chat" and add others to join. This will create a new conversation and your original conversation history will remain private.
Coming Soon on LinkedIn!
There will also be a dark mode coming soon along with new illustrations that aim on being inclusive.
History of The Stories format
First popularized by Snap Inc.'s Snapchat, and then floated on other social media platforms viz.
Facebook Inc.'s Instagram in 2016.
Twitter Inc. has also started testing its own version of stories called Fleets in India.
Pinterest Inc. has also adopted the popular media format – Stories Pin – to its app so that you can share your valuable ideas freely, and also track performance of your Pins.
Statement
Ms. Brianne Kimmel, founder and managing partner of Worklife Ventures, stated that
LinkedIn is so heavily dependent on a resume. We're now seeing, especially in a post-Covid world, resumes are not quite the right format for individuals to demonstrate their full capabilities.